Classic Mexican pork carnitas paired with Côtes du Rhône wine.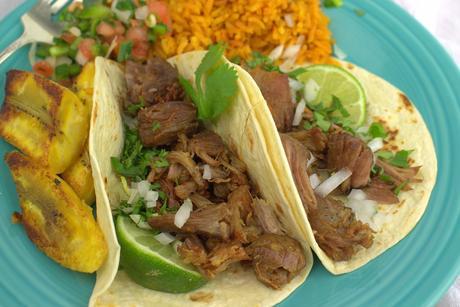 Pork Carnitas
By Sue Lau | Palatable Pastime
Wine Pairing: Saint Cosme Côtes du Rhône 2015
This month, for Wine Pairing Weekend (#WinePW), my blogging friends and I are celebrating #OpenThatBottleNight with various tasting notes and food pairings.
"Open that bottle night" is the brainchild of Wall Street Journal wine columnists Dorothy J. Gaiter and John Brecher, who write "Tastings," their weekly wine column. It is meant as a chance and reminder for those of us who have wines tucked away for special occasions to get the bottle out and open it. And this event is held on the last Saturday of February every year, which in this case was on February 25th.
I hadn't heard of it before doing this month's topic, so when the 25th came around I was a little unprepared, having already committed myself to cooking my pork, which I had intended to set aside to post in May. So it wasn't from my cellar (where I have a small collection of bottles) that I chose my wine from, but instead researched a bit to see which wine would actually go with the pork. And as for recipes for Cinco, I am always full of tricks, so don't worry about that.
And it is a true fact that I don't recall ever having drank wine  with carnitas before, so instead of opening up a special bottle I have saved, it was more of an "open up your prejudices about only serving beer with Mexican" night, and breaking all my own personal taboos.
Because in fact, I relied upon the recommendation of sommelier Caryn Benke of the Andina Restaurant in Portland Oregon in her brief article on Serious Eats to go with a Côtes du Rhône, because of the high acid and ripe fruit character, while being lightweight, to accompany something like carnitas.
Bill and I had been out to the Pint Night at Jungle Jim's market exploring wines over a pint or two of ale when I came across the Saint Cosme Côtes du Rhône 2015 on a shelf of wines designated as being part of Wine Spectator's Top 100 wines of the year. It ranked 43 out of the hundred, with a 91 point rating, and a good bargain at around $15, so I bought it without even a single sample.
It turns out the wine is a nice lighter red with flavors of deep plum, bright berry fruits and licorice. We both enjoyed the pairing with the pork and made quick work of the bottle. So I do recommend. And any idea that I used to have that I wanted a cerveza with my taco was quickly tossed. Each of them goes well.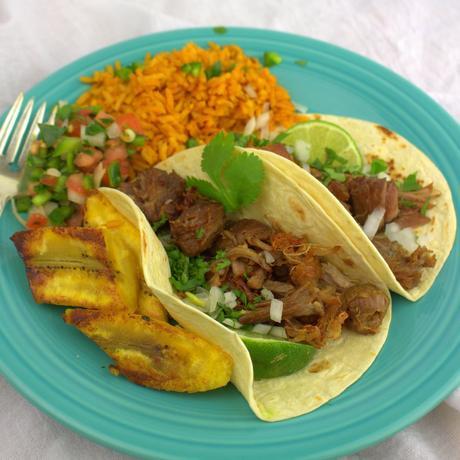 As for the pork, I bought a whole shoulder, but you can also go with a smaller piece, or even cut the bone off something like country ribs  (unless they are boneless, which sometimes happens), which are just thick slices of pork shoulder. With the whole piece, there is some fat that I cut off, along with bits of silverskin and gristle that I noticed. And from there it was easy work in the crock.
The meat really is tender when it is done, but you can't get the total effect unless you brown and crisp it in the reserved fat. Carnitas is a fried product, no matter what other recipes might tell you. I use lard for the traditional flavor, but any good oil will do.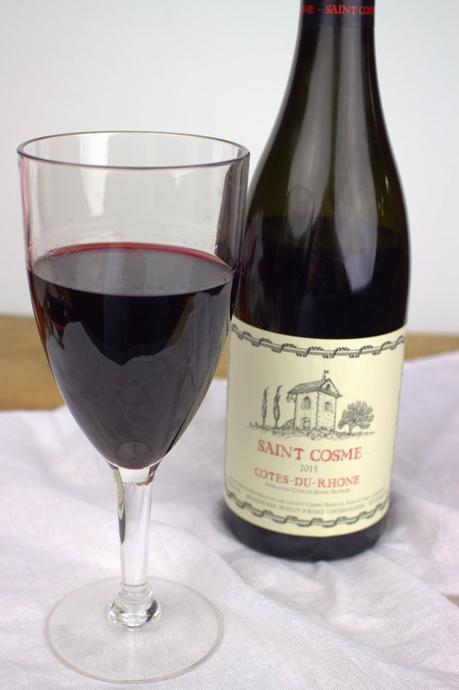 I served my carnitas on flour tortillas in the street taco style with minced white onion, cilantro, and a lime wedge. On the side I offered Mexican restaurant style rice, pico de gallo and caramelized plantain slices, all of which I hope to get recipes to you soon enough. I do have other salsa recipes and Potsie's Mexican rice recipe available on the blog, and the plantains are fairly straight-forward sliced and sauteed when the plantain is blackened on the outside.
Join me tomorrow when I group up with Sunday Supper with Healthy Green St. Patrick's Day recipes. I have put together a recipe for Green Goddess dressing from scratch to use on the classic bibb salad. It makes a lovely side element for most meals. Until then-
~Sue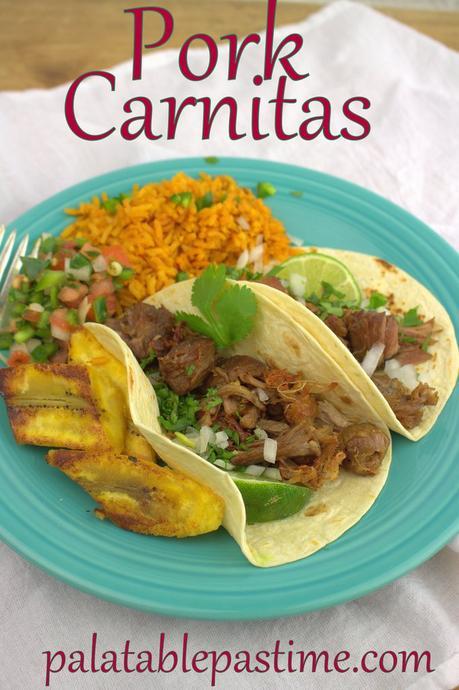 Pork Carnitas
Servings: 12-18
Time: 8hr 45mins
Difficulty: easy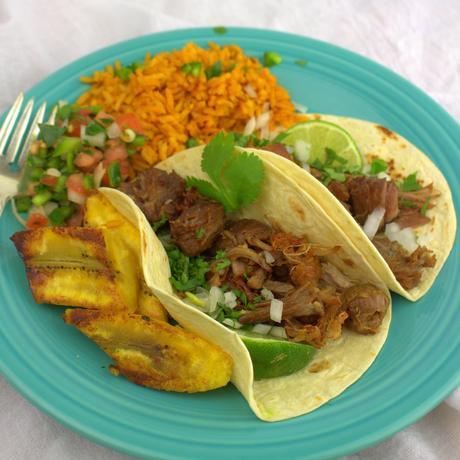 Ingredients:
6 pounds boneless pork shoulder roast
salt and black pepper
1/4 cup lard or olive oil
2-3 bay leaves
1 teaspoon dried oregano
1 teaspoon cumin seed
10 whole cloves garlic
1 medium onion, cut in half
1/2  cup Agrio de naranja or sour orange juice
12 ounces room temperature Corona beer or other Mexican lager
Method:
Trim pork of excess fat and cut into chunks.
Season pork with salt and black pepper and sear in a nonstick skillet in lard or oil.
Drain pork and place in the bottom of a slow cooker with remaining ingredients, cover and cook on low for 8-10 hours or until pork is very tender.
While pork is cooking, reserve cooled cooking lard/oil and refrigerate.
Drain pork when it is done, and before serving, cook pork chunks in heated lard/oil until browned and crisp. You can also serve it heated without the last bit of cooking, but it will not be the traditional crisp type.
Serve carnitas with tortillas and other accompaniments, such as sour cream, guacamole, or pico de gallo. Can also be used as a filling for things like burritos and enchiladas.
From the kitchen of palatablepastime.com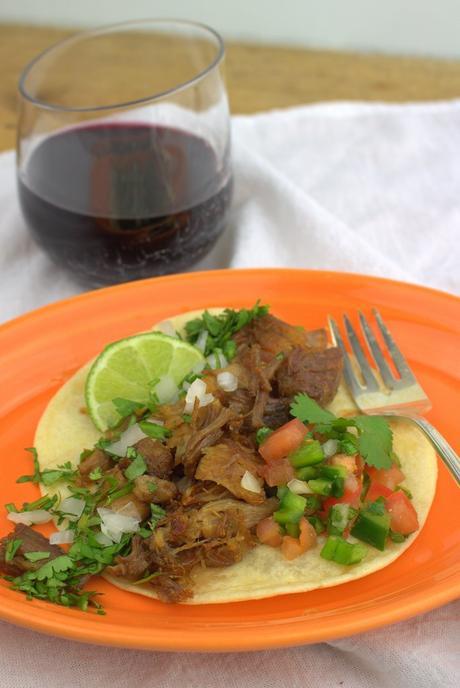 Wine Pairing Weekend
On Saturday, March 11, the #winePW will be sharing about our Open That Bottle Night pairings. Below is a list of the posts that will be shared on Saturday, March 11:
No blog post about #OTBN, no worries! You can still join the conversation about Open That Bottle Night Pairings by joining our live Twitter Chat on Saturday, March 11. Simply tune into the #winePW hashtag on Twitter at 11 a.m. ET / 8 a.m. PT on 3/11 and join the conversation. Please also make plans to join us for the April Wine Pairing Weekend event, when Wendy from A Day in the Life on the Farm will be hosting on the topic of "My Old Standy" on April 8. You can get a list of all the past and upcoming #winePW events by visiting the Wine Pairing Weekend page.
Advertisements