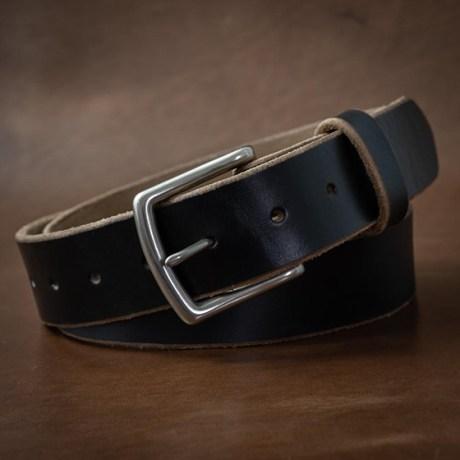 Popov Leather is a Canadian brand started about 7 years ago by Ryan Popoff, who set out to create a top-notch leather wallet. Little by little, his brand developed and currently employs a team of professionals who work on creating and marketing high-quality leather goods. Their most-known products are their belts and wallets, but they also make watch straps, passport covers and more.
Recently, we got the chance to see and wear some Popov Leather belts, which come highly recommended by both the brand and other customers. The belts are made from heavyweight Horween leather, which means that they are supposed to be strong and durable and to look very good as well.
Popov Leather has established itself as one of the popular leather good brands on the Internet, while it may not be a brand you see at every street corner, it's one that people know and talk about. Their belts and wallets are often compared to those of other popular brands, which makes them a household name in the niche.
And, indeed, the Popov Leather belts are worth their praise. They are indeed strong and seem extremely durable, after wearing them day in and day out for a while, it still seems that they will be in great shape a long time from now.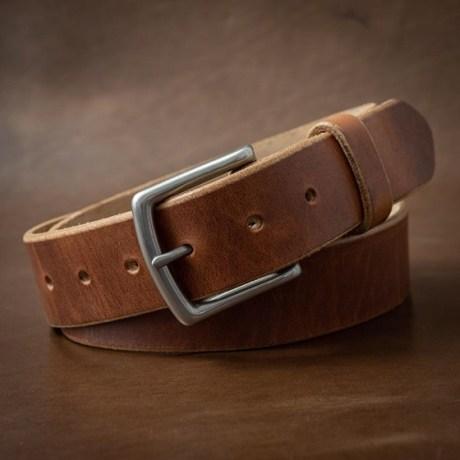 The most important thing to know about the Popov Leather belts is that their overall aesthetic is more on the casual side: they are best for everyday wear and not the go-to belt for an evening party. However, they do go in every other context: you can wear them to work, you can wear them when you're out having fun with your friends and you can even wear them to a more dressy event, if you can make it work with the entire ensemble. Their sturdiness definitely is their most impressive quality; these belts are what we would call "statement accessories", in that they make a great impact when worn. We feel that this is something many men today want, to wear simple yet bold accessories that look masculine and that convey a strong spirit, all while being subtle and understated. Their cool ruggedness is their key feature.
The belts are quite thick and wide, which is great, but it also implies that you need to wear them with pants that will work with such belts. In time, the belts do get softer, but not more fragile. Their buckles are also strong, so you probably won't have to worry about them breaking soon.
The belts proposed by Popov Leather come in different colors and shades. However, they are all neutrals, which means that you can wear them with anything. In fashion, neutral colors are colors like black, brown, beige, khaki, gray, dark blue, and a few others. These colors can be matched with anything worry-free. This is a plus for most guys, who often fear that they may look foolish without realizing it. But, rest calm gents, as the belts by Popov Leather can be worn with anything from jeans to gray or black pants, even if the belts are rather brown. Surely, as mentioned above, they may not be suited for a formal suit, both because of their ruggedness and because suits should usually be more matchy-matchy, but you can definitely wear a Popov Leather belt with a casual suit.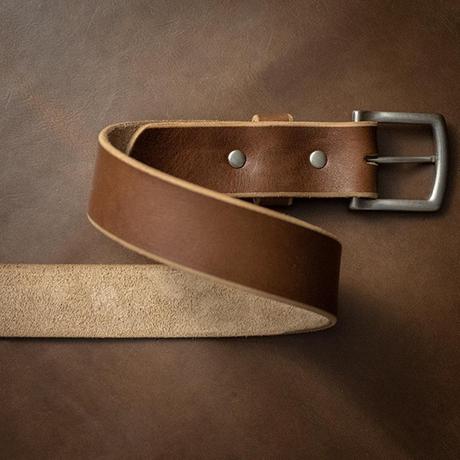 Another thing that is important to say when it comes to the Popov Leather belts is that upon buying them, you need to be careful about their sizing instructions and to make sure you get the sizing right. However, if the belt may not fit, they do have a 90 days exchange policy.
In terms of pricing, at $79 / piece, these belts are well-priced and compare with other products from similar brands.
In conclusion, it can be said that if you are looking for a cool belt that you will probably wear for a long time or a nice gift for someone, you can find one that suits you on the Popov Leather website.
Popov Leather is a brand that is dedicated to offering quality products, which means that they will do all they can to satisfy their customers. And for that, they are definitely worth trying out!
Fraquoh and Franchomme
Further reading:
The Guide to Choosing a Leather Belt
10 Advantages of Leather
Five Fashion Items You Can Splurge On
P.S. We want to hear from you! Have you tried the Popov Leather belts or other products from the brand? What did you make of them? What are you looking for in a belt? Share your feedback, questions or thoughts in the comments below! For more articles on style, fashion tips and cultural insights, you can subscribe to Attire Club via e-mail or follow us on Facebook, Twitter or Instagram!