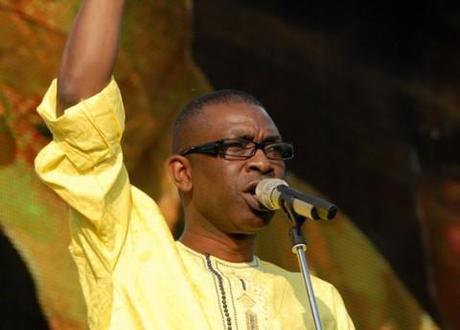 Youssou N'Dour performing at the "Deine Stimme Gegen Armut" (Your Voice Against Poverty) concert in Rostock, Germany on June 7th, 2007. Photo credit: U2005, http://www.flickr.com/photos/u2005/537000297/
Youssou N'Dour, most famous for his worldwide hit "7 seconds" with Neneh Cherry in 1994, announced on Monday that he will be running for president of Senegal in the February 26 election.
Something of an anomaly in African history, Senegal has maintained stability and avoided a military coup; at the same time, it suffers from scarce formal employment and average income per head of $3 a day.  Despite ruling for 11 years, the current President, 85-year-old Abdoulaye Wade, is maintaining that the electoral changes limiting presidents to two terms do not apply to him, as they were introduced after his election. N'Dour, 52, has long been an outspoken critic of Wade, specifically targeting the current president's "profligate" spending, and is extremely popular as a musician.
But does N'Dour have a chance – can he parlay his nationwide popularity into political strength? And is he a credible candidate?
Another Dave Rowntree or the next Michel Martelly? N'Dour's decision has prompted discussions about the previous forays of pop stars into politics, most with undeniably mixed results. Dave Rowntree, the drummer from Blur, lost two council elections whilst Dana Scallon, winner of the 1970 Eurovision contest, became Irish MEP between 1999 and 2004. Due to "residency requirements" hip-hop star Wyclef Jean suffered a much-publicised rejection from running in the Haiti presidential race in 2011; the election was ultimately won by another singer, Michel "Sweet Micky" Martelly. Polling expert Steve Mitchell emphasised the importance of name recognition to the BBC, but said it is nothing without credibility.
Well-respected and well-prepared.  N'Dour's musical background will stand him in good stead for politics, Mark Hudson in The Telegraph claimed: not only does the traditional African approach to music involve expectations of social and political messages, but musicians are forced to think like politicians for self-preservation. He has also acted as a UN goodwill ambassador, fronted an anti-malaria campaign, and addressed social issues through his brand of mbalax, a blend of Cuban-inspired lyrics and fast, erratic drumbeats. Despite international acclaim, he has remained attached to his homeland and invested his personal wealth heavily in the country; 'Youssou President' has been a slogan in Senegal since 1995. "He has been the most influential person in Senegal for almost two decades, and could have been elected president 10 years ago. His support goes way beyond anything to do with music."
Game changer.  N'Dour has previously stated his belief that politics and art are incompatible, and made his choice clear to The Guardian in 2007 with the unambiguous statement "I don't want to be a politican". However, in November last year he cancelled future concert dates to focus on the election. It seems N'Dour has been driven to change his mind by recent domestic events, including chronic power cuts, protests and Wade's attempts to introduce new electoral rules. He has long been an outspoken critic of President Wade, and may have felt the pressure to act; Alex Perry at TIME's Global Spin blog recounted an interview with N'Dour two years ago in Dakar, during which he seemed "only too aware of his fame and influence". However, The New York Times questioned whether that fame and influence will translate into votes.
Modest, much?  The Wall Street Journal has pointed out that even a loss could earn him a Senate seat, but N'Dour is more confident: "I will win in the first round," he said. He has even gone so far as to describe his candidacy as "supreme patriotic duty", and "the best gift I can give". Having previously condemned Wade's profligate spending, N'Dour is promising to scrap the current government's expensive lifestyle and use his impressive contacts to bring aid and investment to Senegal.  His platform of boosting the economy ambitiously includes "food for all", improved infrastructure and decreased youth unemployment –a spokesperson for Wade has, according to Reuters, rather scathingly said they are waiting for the other candidates to detail their policy issues, and "not just list a string of wishes".