Today's review will be about the White Beauty Pearl Cleansing Gel from the house of Pond's. A few months ago I bought this face cleanser for my mom as she loves the White Beauty range of Ponds. She has been using the foaming cleanser of the same range for a long time now. So I thought this newer version of cleanser will be a good choice to break the monotony. She was using this for a month or two when one day I had to use this as my cleanser got over. I quite loved the after effect it produced. Since then I also became a user of this cleanser in spite of having my own cleanser. To know more about mine and my mom's experience with this face cleanser please read on.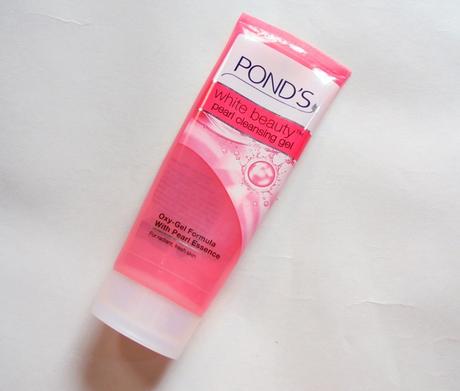 Let fresh, radiant skin be your new beauty mantra this season. Pond's White Beauty introduces, its first gel face wash with the perfect combination of PEARL ESSENCE infused with a refreshing OXY-GEL formula. This revolutionary formulation gently cleanses your skin and uncovers millions of new, lighter cells without making the skin feel dry or dull. Looking fresh, without that dry skin feel is now just an easy wash away with the Pond's White Beauty Pearl Gel Face Wash
What makes this a must-have for your beauty regime?
The lightweight formulation with gel-based texture dissolves more effectively into the skin allowing for better absorption of its Pearl Essence, recognized and tested for skin lightening.
With its OXY-GEL formulation, it cleanses and refreshes the skin, locking in moisture which makes it soft and supple.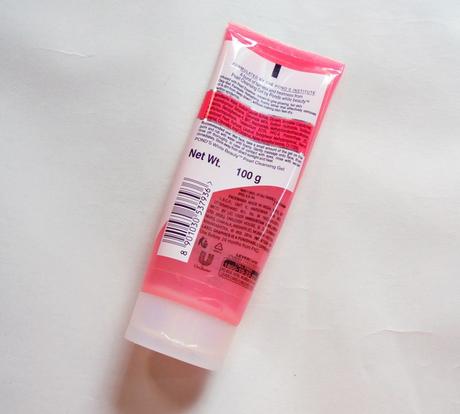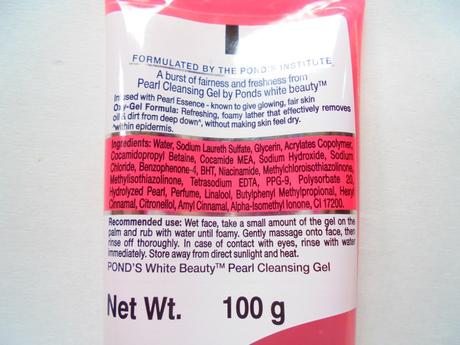 Price: Rs. 165 for 100 Grams
Wet your face and neck with water. Take a dime size amount on the palm and lather up with a few drops of water. Apply it on the face and neck area in a circular motion in gentle circular motion. Rinse well with water and pat dry.
Packaging/Availability: This face cleanser comes in a light pink see-through tube packaging with a plastic flip-top cap. The cap shuts tightly with a sharp click. The packaging also contains elegant label graphics and useful information about the product. The opening of the tube dispenses desired amount of cleanser when squeezed. The packaging is travel-friendly and spillage-proof. The face wash is easily available in almost all the beauty stores and even on the leading grocery stores. It is also available online.
Colour: This cleanser is transparent in nature.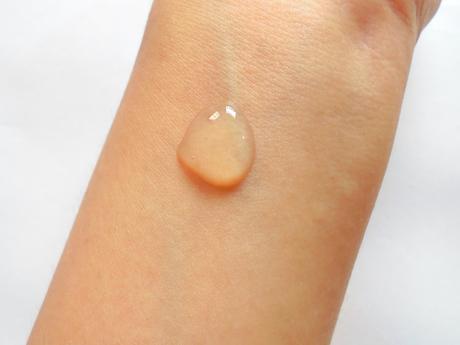 Consistency: The consistency of this face cleanser is thick and gel-based. It reminds me of freshly extracted Aloe Vera gel. Although it is not a foaming face wash it produces enough lather.
Fragrance: The smell of this face wash is kind of powdery and floral. The fragrance is quite freshening. The fragrance takes 8-10 minutes to subside after application.
DOES POND'S WHITE BEAUTY PEARL CLEANSING GEL LIVE UP TO ALL THE CLAIMS IT MAKES?
This claim is 100% true as it makes skin baby soft and nourished.
Effectively removes oil and dirt from deep down, without making skin feel dry:
After applying this facial cleanser; my face becomes fresh and oil-free. It cleanses my face from the dirt and grime I gather throughout the day without stripping off the natural oil from my face. My mom also says the same thing about this face wash. My face stays shine-free for 4-5 hours after washing my face with it
Gives fresh, glowing, fair skin:
From my experience, I can say that this face wash freshens up my skin as well as my senses after a long and tiring day. The cleansing agents in this face wash clear my pores and the sweet fragrance clears my head. It gives a subtle glow that lasts for 6-7 hours. A noticeable difference has been felt on my mom's mature skin. Her face no longer seems dull now after applying this face wash regularly for 5 months. This pearl cleansing gel gives a sheer glow her face after every application. Her stubborn pigmentations are also faded to some extent. But the skin lightening claim is not true at all. As me and my mom do not want a fairness cleanser this is not a con for us.
This face cleanser is suitable for oily to combination skinned people with frequent acne breakouts who want a budget face wash to keep the face oil-free and shrink acne bumps. It also works great to bring softness and glow to a dull face and reduce tan. I would not recommend this face wash to dry skinned beauties as it may further dry up their face.