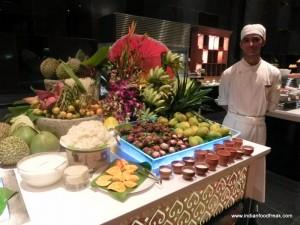 It was only fitting that my BFF and I celebrate the International Women's day with the culinary prowess of another lady – Chef  Naowarat  Charoenwong. She had prepared an elaborate spread, designed to tingle the taste buds. The festival is active at the Pondicherry Cafe, Sofitel Mumbai BKC for dinner 7pm onwards, till March 16th.
But before that, here is a bit of history on Thai Cuisine. Thailand which was originally the region of Siam, has been influenced by its neighbouring countries and their cuisines. Yet with all these it has evolved its own culinary identity that is a wondrous amalgamation of all tastes – sweet, sour, spicy, salty and bitter. Thai cuisine is all about complexity and nuances of flavours. Rightly so that its curries and stews have almost two or three levels of tastes that travel from the tip of the tongue to the throat. The northern cuisine is influenced by China while the Southern cuisine is similar to Malay. Its streetfood is almost like the one you would have in Cambodia or Laos and yet some of its dishes can trace its origins to Royal Cuisine of the Ayutthaya kingdom.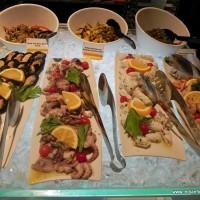 We started the evening in the delightful company of GM Biswajit  Chakraborty, who has just taken charge and his gracious wife Moushumi. The Thai students from the Pune University had put up some amazing dance performances. If someone had not informed us we would not have known that these were not professional dancers. The grace and allure set the tone of the evening. We started with drinks at the bar. We had a choice of cocktails. One was rum and chocolate liqueur based cocktail with water chestnut pieces on the swizzle sticks. I loved the creamy rummy taste and the unusual pairing with water chestnuts. The other was a Tom Yum Soup inspired Margarita. True to the name, it was spicy and tangy. Like all things Thai, it had a note of sweet and tangy followed by a spicy burn. The accompaniments with the cocktails were Satay chicken; bland and usual, Fish cakes; spicy and lemon grassy, Corn fritters; simple goodness.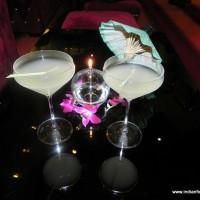 We then moved to the Pondicherry café for the Thai buffet. Apart from the usual continental salad and cold cuts there were specific Thai based salads such as Larp Kai,a minced chicken salad with mint chilli and rice powder; beautifully fresh and spicy and  Som Tam, raw papaya salad with chilli garlic and tomato; ticked all the right boxes of tangy, sweet, spicy and delicious. The raw banana and beetroot salad was interestingly fresh and unusual.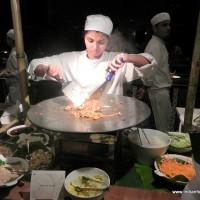 In the main course, there was a live Pad Thai counter in the true Thai Street style. We had one with eggs, shrimps and chicken. It was delicious except that it lacked the heat one would associate with Thai street food. Maybe they had toned it down for more common palate. We tried the Goong Makham – Prawns stir fried in tamarind sauce. They were again deliciously fresh, sweet and tangy. Definitely a dish I would like to recreate in my kitchen. This was followed by the duck curry and and the chicken curry. While the duck curry was slightly sweet the chicken curry was spicy and tangy. Both a must haves. There was the vegetarian choice for Choo Chee Tahu; Tofu in reduced yellow curry with coconut Milk and Kaffir Lime. A bit spicier would have hit the right notes.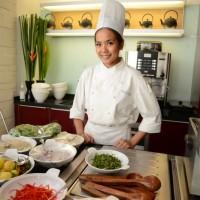 Sofitel is known for its desserts and the dessert counter didn't disappoint at all. However worth mentioning is the KhaoNiewMamang (Sticky rice with Mango). I just loved it and it was probably the most authentic taste from Thailand for me.
In summation, it was a pleasant evening with loads of good food, great company and entertainment. The service was impeccable. The spread on offer was excellent however, I think a bit more intricate authentic Thai dishes would have been welcome.
Ratings out of 5
Food: 3.5 | Ambiance: 3.5 | Service: 4 |Overall: 3.5
Meal for Two without Alcohol:Rs. 3000 Approximately plus taxes| Alcohol: Yes | Credit Card: Yes|
Timing: Dinner : 7 – 12
Address: Sofitel Hotel, C 57, BandraKurlaComplex,Bandra East, Mumbai
Telephone :022 61175000 / 022 61175001