Hola ladies! :) I guess I am the last one left to review this product in the blogosphere, but this time it wasn't because of laziness, rather I was testing it, to see if this product really works for me or not. Read on to know more!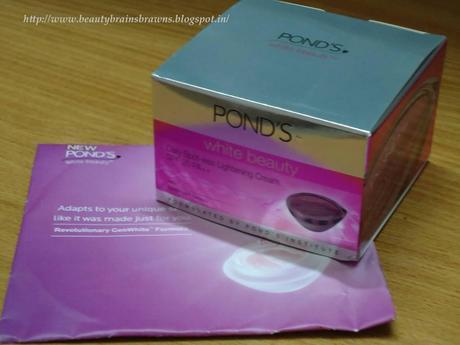 PRICE: 

Rs.

249
QUANTITY:
50g
INGREDIENTS:

WHAT IT CLAIMS:
"This nourishing non-oily light day cream with the new, cutting edge white beauty GenWhite formula SPF 20 PA++ works deeply to reduce dark melanin production. To lighten, brighten and fade dark spots, while providing instant radiance. Discover spot-less fair skin like never before, within the epidermal layer."
MY EXPERIENCE:
When I got this cream, I was truly attracted to the beautiful packaging, the tub is so girly in pink and white. The texture is like a light pearly pink 'snow cream', that feels completely weightless on skin. It reminded me of the earliest version of a famous brand of fairness cream which I used to love when I was a kid. Sadly, I didn't find it moisturising enough on my dry skin, as it never gets absorbed fully. It just sits on my skin and washes off with water (comes down my face in white rivulets :P) no matter how much I try to blend it in. Then I tried a different blending trick, I applied it on moist face and it definitely looked better, but still it didn't get absorbed completely. It gives an instant brightening effect, but make sure to use only a little amount, else it gives a whitish cast. Skin feels matte and soft.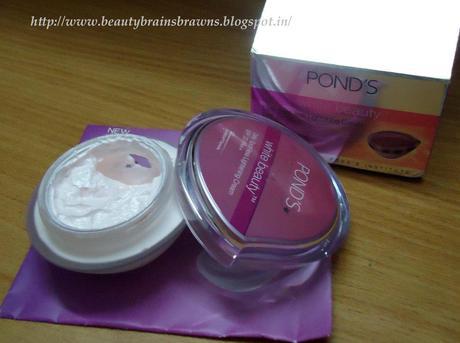 I was trying this on and off for a month, and then I changed my skincare products, and started using it regularly for a week to test it. But I didn't see any significant change on my face, and I was quite irritated with it as it wasn't moisturising enough and I could feel some tightening on my skin. This would work great on oily skin, who would love the matte effect it gives, but on my dry skin, it didn't work as great.
WHAT I LIKED:
The cream is really soft and light on skin.

Feels almost weightless, leaving a matte effect on skin.

Instantly brightens up face, provided correct amount is used.

Has SPF 20 PA++ .

I love the sweet smell, somehow it reminds me of my childhood days :).

Beautiful tub packaging, though the hygiene issue creeps in.
WHAT I DIDN'T LIKE:
It doesn

't get fully absorbed and hence it is not moisturising enough on my dry skin.

Gives a whitish cast if used in excess.

Didn't see any effective spot lightening, but then I suppose that would take more time to show, which I couldn't give to it.
VERDICT:
If you are oily skin and want a mattifying and brightening cream, then you can give this a try. I won't recommend it to dry skin beauties though.
RATINGS:  3.5 out of 5
**Product sent by PR for consideration but it doesn't influence my honest opinion! Read my disclaimer.