This baby is selling like hot cakes. I got one for me about a month ago. I had used Maybelline and Garnier when it comes to BB creams, these are the only ones easily available in India. So thought of giving this one a try and here goes my review.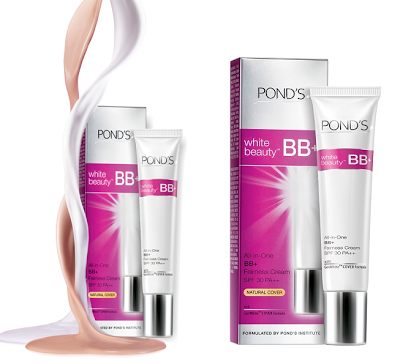 Claims:
With the Pond's Institute's dual-acting sophisticated skin lightening GenWhite™ Cover Formula and SPF 30 PA++ advanced sunscreen protection, Pond's white beauty™ BB+ fairness cream not only improves skin texture and effectively lightens skin from within but also provides Natural looking instant glow for Indian skin. Clinically proven to lighten skin tone and reduce dark spots, GenWhite™ Formula is enriched with a powerful mix of Vitamin B3, Vitamin E, Allantoin and advanced superior sunscreen protection.
§

 
Vitamin B3
 – Pond's signature ingredient, helps to reduce and control melanin accumulation on the skin
§

 
Vitamin E – A potent fat soluble anti-oxidant to neutralize the harmful effects of free radicals which can trigger melanin production which leads to darker skin
§

 
Allantoin 
– Recognized as an anti-inflammatory by US FDA found in the comfrey plant and helps to reduce processes that can lead to increased pigmentation
§

 
Advanced Superior Sunscreen Protection SPF 30 PA++  SPF 30 PA++
 – Helps to protect against skin tanning and photo aging.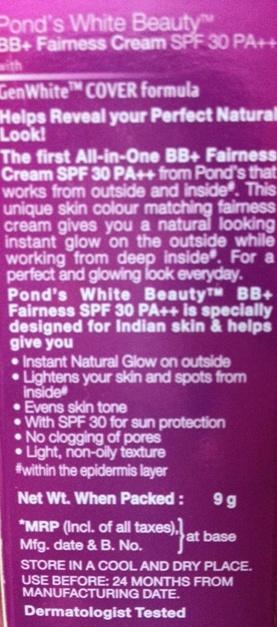 Price
: Rs 69 for 9 gm 
           Rs 125 for 18 gm
 It works wonders! It's a bit thick more like paste but creamy, so it blends easily. Its moisturizing as well. But if you have a really dry skin you might as well dab some moisturizer before applying this cream.
It comes in a tiny tube. White with pink print and I think it's very chic. It has a silver cap on top. The whole package is very travel friendly. It has a nozzle which helps you to easily dot along your face.
You don't need much quantity for one time use. It gives medium to full coverage for light blemishes. It gives that instant glow which I completely love!!!!
Your face looks bright and fresh. It isn't heavy on skin and stays for 3-4 hours with full effect
Pros:
Affordable
Easily available
Gives a nice glow
Doesn't washout
Medium coverage
Not heavy
Cons:
Only one shade is available
Doesn't provide full coverage
Rating: 4.5/5
Ciao…!!