We haven't posted a poll with Anna Paquin featured in it for awhile…but we found this one and thought that although there are plenty of errors in the post proceeding it; there's still NO WAY IN H*LL Anna should lose to Kristen Stewart (Bella, Twilight) of all people!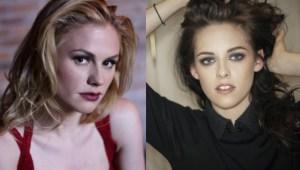 Over at Joe.ie they had this to say about the poll…
With the news that a new series of True Blood is on the way, we thought we'd pit two of our favorite on screen vampires against each other. So tell us, which one would you want to suck your blood?

We recently reported that the stunning Anna Paquin will be returning to the small screen as the blood sucking vampire Sookie in True Blood. So we decided to pit her against another onscreen vampire in the form of Twlight's Kirsten Stewart. Both are absolutely stunning so we want you to decide which one you'd happily let suck your… ahem, blood? Don't forget to vote below…
Ummm…let's point out the errors shall we?
Sookie is NOT a vampire on True Blood.
A new series? Don't they mean a new season?
GAH…if I hear the word, babe… ONE. MORE. TIME…in my lifetime – it would be too soon. Thanks to Quinn in the books.
Anyways, even though this poll is glaringly full of errors, we just don't want to see Kristen win this one, and you know how big the Twilight fandom is…so, imagine that Sookie really IS a vampire…who would you vote for?
Cast your votes here: Battle of the Babes
Thanks Eric & Sookie Lovers!