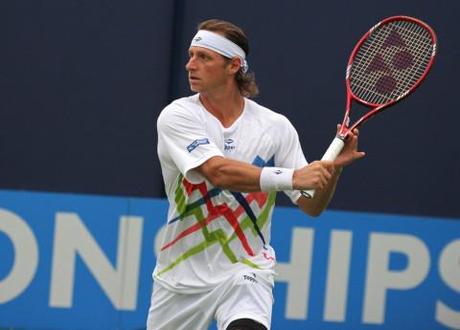 Temper, temper: David Nalbandian
The background
Police launched an investigation after a temper tantrum by Argentine tennis player David Nalbandian left an official bleeding. Nalbandian kicked an advertising board after dropping behind during the men's singles final of the Aegon Championships at the Queen's club; his foot passed through the plywood and into the shin of linesman Andrew McDougall.
The player was disqualified over the incident, and stripped of his runner-up prize money of £36,144. However, some commentators have questioned whether the punishment was severe enough, given that Nalbandian will still be allowed to compete at Wimbledon 2012.
Bring emotion back to tennis
The modern game of tennis lacks personality and spirit, wrote Simon Briggs in The Telegraph: "Professionalism may improve the quality of the ball-striking, but it also brings homogeneity in its wake." So although Nalbandian's actions, and subsequent inadequate apology, cannot be condoned, "there is still something refreshing in seeing some unexpurgated emotion back on a tennis court," Briggs said.
Nalbandian deserves 'unprecedented sanction'
It is outrageous that Nalbandian is able to "waltz into the next tournament" after his behaviour, wrote Matt Dickinson in The Times (£): "Physical assault on an official is a very serious offense — except, it seems, in tennis… Rather than pack him off to reflect on his idiocy, the tennis authorities have slapped him rather limply on the wrist."
Disqualification was fair
"If David Nalbandian had done what he did on the tennis court while drinking in any of the pubs near Queen's Club, there is every chance that the police would have been called and the Argentine might well have been arrested," said Mike Dickson in The Daily Mail. The kick was "bordering on assault; put simply, he had to go".
Watch footage of the kick below.