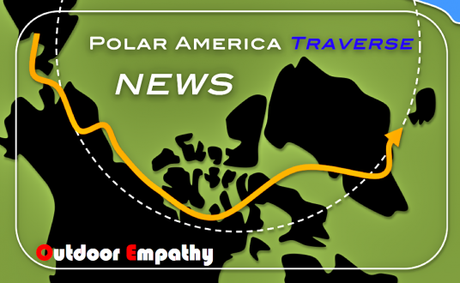 Explorer Yuri Klaver has announced his next expedition and it's a big one. Beginning in July of this year, Yuri will attempt a traverse of the Arctic on skis and in a kayak. The journey, which he calls the Polar America Traverse, will follow a similar route taken by Roald Amundsen in 1906, traveling approximately 10,000km (6214 miles) from Europe to Asia.
In order to accomplish this epic task, Yuri has broken his expedition down into three segments. This July he'll begin on the Kamchatka Peninsula and start heading east, crossing the Bearing Strait and traveling into northern Alaska. He'll start in his kayak and paddle upstream as much as possible before traveling on foot through the Brooks Range mountains. The plan is to use his kayak as a sledge for his gear and to ski to the Beauford Sea, which he hopes to reach by May of 2013.
The second phase of the journey will begin in the winter of 2014, when Yuri will employ the use of kites to cross the Northwest Passage  to Baffin Island, where he'll return to his kayak for more paddling. Then in 2015 he'll wrap up the expedition with a traverse of Greenland, followed by crossing the sea to Iceland.
Yuri is still working out the logistics and details on some of these phases and obviously the schedule could be impacted by weather, finances and other forces. But he is moving ahead with his start in July and has every intention of sticking to his schedule.
Find out more and follow along with his progress at OutdoorEmpathy.com. And watch for an app to track the expedition for iOS devices in the near future.