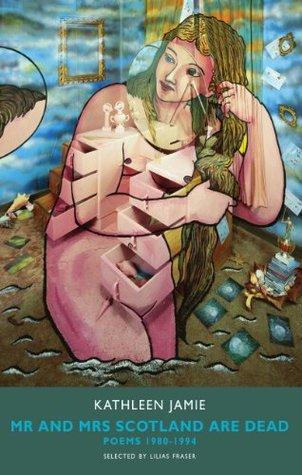 TITLE & AUTHOR: Mr & Mrs Scotland Are Dead (Poems 1980-1994) by Kathleen Jamie
PUBLISHER: Bloodaxe Books
EDITION: Kobo
RELEASE DATE: 28 March 2002
PAGES: 160 Pages
SOURCE: Digital Library Book
POET PROFILE: SCOTTISH POETRY LIBRARY
WHAT'S IT'S ABOUT
Kathleen Jamie is one of Britain's leading poets. Her work is intelligent and subtle, her language inventive and refreshing. Mr and Mrs Scotland Are Dead is a selection from her early collections, from times of change and travel. It reveals the generous range of her concerns, from life in the wilder parts of Pakistan and Tibet to the 'difficult questions' of identity posed in her much celebrated collection, The Queen of Sheba, which was shortlisted for both the T.S. Eliot and Forward Prizes. Mr and Mrs Scotland Are Dead is a seminal volume in modern Scottish poetry. Shortlisted for the Griffin Poetry Prize, it was a Poetry Book Society Special Commendation. It includes most of her poems from Black Spiders (1982), A Flame in Your Heart (1986), The Way We Live (1987), The Autonomous Region (1993) and The Queen of Sheba (1994). 'Genius is no stranger to the work of Kathleen Jamie. With each successive theme to which Jamie turns her vision she brings the gift of insight and mystery...poetry of stunning clarity and musicality' -Scotsman. 'With The Queen of Sheba Kathleen Jamie has produced the best individual collection of poems by a woman living in 20th century Scotland. The book establishes her eminence among Scottish poets of her generation. The precision and resource of her language have never been combined more impressively than here' -Robert Crawford. 'A deep lyricism married to intelligent and highly disciplined verse' -Scotland on Sunday.
From View from the Cliffs
Orkney rises like the letter D,
gently rolls,
then
nothing, save the ocean
and twenty thousand seabirds
stirring a storm in a teapot...
WHAT I THOUGHT
Mr and Mrs Scotland Are Dead is a very enjoyable collection of poetry. I'm familiar with the poet from various anthologies I've read over the years. I loved the vivid images and descriptions used in the poems. The poet painted lovely pictures inside my head. The poet has a great sense of humour and some poems made me laugh such as The Queen of Sheba and Arraheids. My favourite poems were The Autonomous Region where the poet blends fact, fiction and myth to create something quite wonderful.