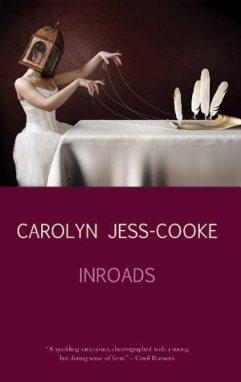 Poet's Website
Amazon (UK)
Amazon.com
Shortlisted for the London Festival Fringe Prize for the Best First Collection of Poetry 2010.
This debut collection from Seren, Inroads, showcases a startling new talent. Carolyn Jess-Cooke has a sophisticated poetic intelligence as well as a great sense of fun.
The opening piece, 'Accent' where 'stowaway inflections and locally-produced slang/have passports of their own' is a praise poem for the versatility and joy of language, "The way sound chases itself in tunnels and halls, the way senses fold memory...". This verbal fluency and dexterity are employed to offer us poems that are multi-faceted and often paradoxical. 'Aeneas Finds Dido on YouTube' is part satire, part tender re-enactment of the myth, featuring the most up-to-date media platforms.
After this playful start, a difficult childhood is evoked through metaphor in poems like 'Music Lesson','One Thousand Painful Pieces' and 'Bitten', all the more heartbreaking for being indirect. Other high points are 'Newborn' with the apt description of a babe in arms being a 'zoo of verbs/mewling, snuffling, pecking...'. This sweet realism again gives way to metaphor, in the strangely evocative 'Dorothy's Homecoming' in a brilliant take on the classic film 'Wizard of Oz', the power of maternal love has turned into a 'twister'.
Readers will enjoy discovering this striking and versatile new voice.
Poems included
Accent
Open-Mic Night at the Memory Karaoke
Second Hand Words
Yesterday, I Failed
Aeneas, Finds Dido on YouTube
Orpheus Gets Punk'D
Place
Rewriting the Mappa Mundi
Bitten
The Archer
Because of That Morning in 1983
Music Lesson
One Thousands Painful Pieces
Daisy
Pure
Lip Service
Belmopan, Belize
Tourists
Jet Lag
Reading Mt. Fuji's Diaries
Waterfall at Lake Chuzenji, Japan
First Time Buyer
Boo!
5 Months
Newborn
Descartes' Daughter
Dorothy's Homecoming
A Poem Without Any Vegetables
Asda, Ten Days Post-Partum
Pamukkale, Turkey
Fifteen And A Quarter Things To Do With Your Past
In Defence Of Multiple Handbags
Clouds
Three Ways To Look Through A Telescope
"Daily, I Forget To Live"
Inroads
ACCENT
Stowaway inflections and locally-produced slang
Have passports of their own, a visa for the twang
That tells me you're not Xhosa
But a Georgie raised in Grahamstown, maybe. It's a blitz
Of souvenirs on the ears, the way you bring your bliss
Of home that much closer...
Inroads is an enjoyable collection of contemporary poetry. Not every poem suited my tastes. I like poems that use imagery and rich language but still tell me a story I can understand. I don't like poems that use so much imagery the meaning becomes vague and obscure. Inroads contains a few poems like this so these left me a little cold. Some of the poems are very good though. I thought Dorothy's Homecoming was a fantastic poem. I loved it. I also thought Lip Service, Boo!, Jet Lag and F ifteen And A Quarter Things To Do With Your Past were enjoyable. Some of the poems just didn't work for me which made the collection uneven. I loved the cover though.