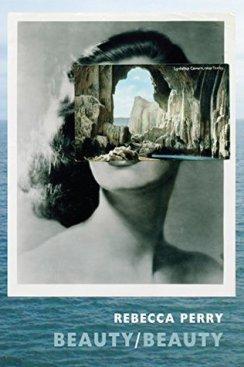 Beauty/Beauty by Rebecca PerryPoet's Website
Amazon (UK)
Amazon.com
Bloodaxe Books (ebook), 2015POW
87 Pages
The world of Beauty/Beauty is 'built from the nose/out, like a painting', accumulating its various feelings, ideas, objects, disappointments and joys to the point of almost overflowing. Preoccupied with demise and loss, as well as re-imagination and regeneration, Rebecca Perry's debut collection has the duality and symmetry of its title at its core. Beauty/Beauty is a book with tenderness running through its veins, exploring salvation, reparation and the fullness of being alive; the difficulty of defining what love is, the heartbreak, the faraway friends, the overwhelming abundance of things in museums. It is alive with memories, with old loves hanging around in the corners of dark rooms, ghost mouths hidden inside the mouth you are kissing, and eulogies to dearly departed pets. Each poem creates its own tiny world to be lived in and explored; a stegosaurus is adored, a million silver spiders play dead, a list of flowers is not really a list of flowers, adorable dogs want to be friends, the flightless grow wings, and the stars turn green. 'Rebecca Perry's Beauty/Beauty is, immediately, a vivid and charming book - but it is also doing something new. Its readers will find that Perry has invented and made her own a kind of poem which seems to have a white fracture in it, a formal manoeuvring that accentuates the tenderness and intelligence of this remarkable debut. Not since Jo Shapcott's Electroplating the Baby or Simon Armitage's Zoom! has a poet emerged with such a distinctive, original voice' - John McAuliffe.
Poems included:
 Pow
 Flowers, Love Etc
 Other Clouds
 Wasp
 Alabaster Baby
 A Prayer For The Wild At Heart Kept In Cages
 Sweetheart, Come
 Windows
 Over / Wintering
 The Woman In The Sun, A Letter
 A Guide To Love In Icelandic
 Kintsugi
 The Boy
 Django Fontina
 Hello, Little Bird
 Ergonomics
 Junk Mail
 Immortelle
 All The Sad Movies
 Baba Ghanoush
 The Pet Cemetery
 Dear Stegosaurus
 Pepo
 The Year I Was Born, The Day By Day Chronicle Of Events In The Year Of Your Birth
 My Grandfather Considers His Life In Three Stages
 Shifting
 Phonograph
 Casida Of The Dead Sun
 The Glass Boat
 Hungry
 The Execution Of Lady Jane Grey
 On Serendipity
 Poor Sasquatch
 Exemplifying Grace
 Character Development Of The Lovers
 A Most Satisfactory Dreamlife
 Soup Sister
 _ Is Transported On A Ship From A-Z
 How The Earth Increases
 Estrapade
 Poem In Which The Girl Has No Door On Her Mouth
 A Woman's Bones Are Purely Ornamental
Though I think of you eating three tiny chicken hearts on a skewer
Or the skinny girl at school with shallow breathing white hands,
Chicken-hearted means easily frightened, and has nothing to do with the heart.
Beauty / Beauty is a fantastic collection of contemporary poems. This is the first time I've read the poet and I enjoyed her work immensely. Bloodaxe Books are one of my favourite publishers of contemporary poetry and a collection from them is always worth checking out. I loved the mix of subject matter and styles in this collection. These poems are well-written, thought-provoking, engaging and just the right combination of light and dark. I enjoyed many poems in this collection but my favourites were Pow, Pepo, On Serendipity, The Year I Was Born, The Day By Day Chronicle Of Events In The Year Of Your Birth and Poem In Which The Girl Has No Door On Her Mouth.