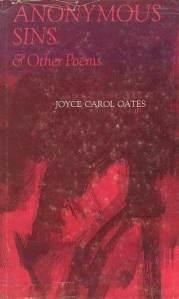 Anonymous Sins And Other Poems By Joyce Carol OatesAuthor Website
Amazon (UK)
Amazon.com
Louisiana State University Press (hardback), 196979 Pages
What's It's About
Joyce Carol Oates is one of the best-known writers in America today. Her recent novel Them won the National Book Award, and two of her other novels have been nominated for the award.
Anonymous Sins and Other Poems, her first published collection of poetry, represents a distinctive new voice and will evoke a strong response from the discerning reader.
Extract
The Dark
A wood breaks to immense flower in blossoms.
The blossoms break to small, fragrant faces.
Above their careful eyes lift a flock of birds
To whom the air is water, layered air,
The texture of clouds lowered.
What I Thought
I thought Anonymous Sins and Other Poems was excellent, another shining example of JCO's talent as a writer. This woman can turn her hand to anything.
What I loved about these poems is the fact they convey as much meaning as a short story of a decent length or in many cases ( Gravity, A Drawing of Darkness, A Girl at the Centre of Her Life and Of the Violence of Self-Death) as much as a novel. There is skill is conveying so much in so little space. JCO has this skill in spades. The longest poem in this collection is about 50 lines and JCO could have written a novel.
I enjoyed so many poems including those listed above: Lines for Those to Whom Tragedy Is Denied, Unborn Child, The Ride, On Being Borne Reluctantly To New York State, By Train, And So I Grew Up To Be Nineteen And To Murder, Anonymous Sins and A Crowded River, Sunda y are just a few that resonated the most.

Anonymous Sins and Other Poems is a great collection of poems. Highly recommended.
Poems included:
The Dark
Lines For Those To Whom Tragedy Is Denied
Five Confessions
American City
Three Dance Of Death
Tinkly Song
At An Old Downtown Square
Unborn Child
Gravity
A Drawing Of Darkness
The Ride
A Girl At The Centre Of Her Life
Of The Violence Of Self-Death
Marriage
On Being Borne Reluctantly To New York State, By Train
Foetal Song
Alarms
Sleepwalking
Centuries Of Lovers
To Whose Country Have I Come?
And So I Grew Up To Be Nineteen And To Murder
A Woman In Her Secret Life
Women In Love
A Rising And Sinking And Rising In My Mind
An Internal Landscape
Cupid And Psyche
In The Night
Transparencies
Like This... So This
Anonymous Sins
Dead Actors
A Crowded River, Sunday
Vanity