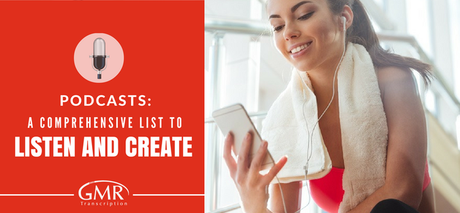 Podcasting is a new use of technology that relates to the original social medium of the olden days, storytelling. If you are interested to know more about entrepreneurship, technology, leadership, business, creativity, or merely for learning and expanding your mind, the following podcasts, listed category-wise, can inspire and guide you to be better in all that you do. You can listen to these while you're in the car, in the gym, or during your morning commute.
For Business/Start-Up/Entrepreneur
Productivity/Growth-Hacking
Health/Fitness Podcast
Comic/Fictitious Podcast
Are you inspired by the above list to start your own podcast? If you have already begun thinking about it, here's a guide for you that includes helpful resources and tools for podcasting:
For creation of Podcast
How To Podcast - The Ultimate Guide to Podcasting - A really handy resource for creating your own podcast as an absolute beginner.
For Hosting, Sharing and Networking
Podcast to Text [Transcription]
GMR Transcription - Transcription helps your podcast to reach a wider audience, as well as enhance the search engine visibility of your talkshows. We at GMR Transcription provide affordable and accurate podcast transcription services in a quick turnaround time. We have a special affiliate program for podcasters to receive a perpetual discount off transcripts. You can get transcripts done for as low as 98 cents per minute! Apply Here.
Podcast Forum & Directories
This is only a tentative list; however, We'll keep updating it as soon as we get something relevant and contextual.

46 total views, 46 views today