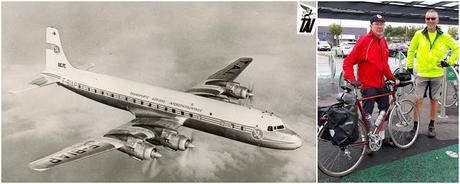 Invisible Bordeaux has switched back into English for this latest podcast, which revisits the tragic story of that night in 1959 when a Transports Aériens Intercontinentaux DC-7C crashed shortly after taking off from Bordeaux-Mérignac airport. 
Sixty years on to the very day, I headed back to the area in Saint-Jean-d'Illac where the crash occurred, meeting up with Chris Davey who, along with his traveling companion Paul, had cycled all the way from the south-west of England to view the area. His connection with the event is particularly poignant as Chris's dad, James or Jimmy Davey, was among the 54 people who perished that night.
Here then is the podcast, in which I retrace the sequence of events that resulted in the crash, and talk to Chris about the story behind his journey in search of his personal history. 



Click here if player does not display properly on your device.


You can also find the podcast on miscellaneous platforms including Anchor, Apple Podcasts/iTunes, Spotify, Google Podcasts, Breaker, PocketCasts, RadioPublic, Overcast, Podbean, Podcast Addict and Stitcher. Feel free to hit the subscribe button on the platform of your choice... 
> This podcast is an adaptation of the blog item published earlier in 2019 that you can find here, complete with archive and modern-day photos, and a map showing the crash area. 
> The obituaries of 'Jimmy' Davey and Hilary Morris can be found here.