If you have been on my 'Art Deco Shoreditch' walking tour you will know that a popular and provocative stop along the route is Willen House at 8-26, Bath St, London EC1V 9DX.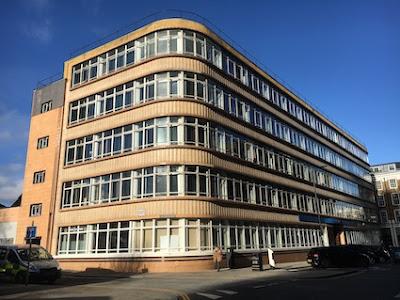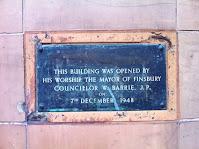 It is such an unusual building because it looks to be 1930s, yet it was constructed soon after WWII, opening in December 1948 as shown within a plaque on the Lever Street corner. For the past few decades the building has been student accommodation and has suffered from a lack of care, the secondary double-glazing being particularly shabby.
Earlier this month, whilst out walking with some like-minded friends, I noticed seven information sheets in the windows of Willen House to the left of the main Bath Street entrance outlining tp bennett LLP's proposed changes for an upgrade to the building. Keen to keep up with my friends, I took some quick phone snaps so that I could read the info at a later date. And a good job I did that otherwise I would have been moaning about it for the rest of that day. The planned changes will effectively make it look like a new structure rather than a carefully-restored and adapted building. To say I am disappointed is an understatement. 
Having checked the 'work' section of tp bennett's website I can find no mention of this project to provide a link for you, so I have included my photos of the info sheets below (scroll down to the end) which, incidentally, were affixed L-R in reverse order which is itself sloppy.

I can also find no reference of these proposals on Buildington, which suggests to me that this is considered a cosmetic change, being that planning permission might not be needed here.

I have written a letter of complaint to the architects (see below) which I have cc'd to other parties who I think should be alerted to this insenstive shambles. 
If you are also concerned about these propoals, please do write a letter of complaint yourself and make this issue known to any other parties you think could assist in preserving this unique and unsual building. 
..........................................
tp bennett LLP
One America Street
London SE1 0NE
[email protected]
Date: 12th January 2022
Re: Willen House Consultation / Revamp of Willen House, 8-26, Bath St, London EC1V 9DX 
I lead guided walks across London and have a keen interest in architecture, especially the 'Art Deco' era. One of the most popular stops along my Shoreditch and Finsbury route has always been Willen House, especially when I explain to the group that this is not a 1930s building; that it was actually constructed just a few years after WWII and is therefore very unusual, not only for its lovely warm tones and quality of products used, but also because very few buildings were built at this time and certainly not to this excellent standard using quality products.
Earlier this month, whilst walking past the building, I noticed in the windows some information sheets that illustrate how tp bennett, a company who I have until this point respected and promoted, in the main for the excellent work created and overseen by Thomas Bennett back in the 1930s (such as, for instance, well-designed residential blocks in St John's Wood and Westminster), is here planning to disguise almost all the original features which make Willen House so special and worthy of preservation.
Willen House is very unusual. There were only a handful of buildings constructed in the 1940s in London. This building has distinct 'Art Deco' styling yet, as the plaque on the Lever Street corner shows, it was completed in 1948 and opened on 7th December by W. Barrie, J. P., the then Mayor of Finsbury, hinting at how important an achievement this was to the borough and to the Willen Key Company at that time.
I have long been of the opinion that the Willien Key Company, which was founded in Battersea by James Walker in 1903, and moved to this area in 1923, had already planned and prepared for this building just prior to WWII, hence the quality of the products which would have been sourced or produced beforehand and the speed with which they were able to construct showroom, offices and warehouse. With much of the area devasted by bombs, the company, with their well-made locks and other property protection devices, would have been a business that was much-needed post-war, the products needed to secure homes and businesses in the surrounding area, indeed beyond.
The fabric of the building has indeed suffered since the Willen Key Company moved out and certainly now needs some attention, especially the interior, the windows, and rear of the building. However, the Bath Street façade with its tiled elements surely just need a good clean up. The tiles are now almost 75 years old and have stood the test of time well. The soft warm tone of the building is both delightful and unusual.
What appears to be proposed here is that the Bath Street façade is to be re-modelled and re-coloured to better tie in with the products used for the new build at the rear, effectively adapting the old to visually match modern cheap-to-install products, rather than making the new additions tie in with the quality and color of the existing structure.
I am appalled and very disappointed to see that the plan is to cover, and therefore eradicate, the lovely warm beige tones that evoke a Mediterranean sunset, as well as the soft fluted tiles and the unusual chocolate brown double-stripe detail that frames those areas, in dull shades of monochrome that will over time become even more gray and dull, especially on dark or cooler days.
The integrity of Willen's original building will be lost of these changes are implemented. A reference is made to the changes being "a nod to the past" and that the aim is "to refresh and enhance" yet it is evident that what we see here, is not a sympathetic renovation but a complete makeover that will make the building look like a pastiche of the streamline-moderne, such as in nearby Bunhill Row.
I have been advised that the proposed renovation has an approximate life of 10 years and that pale-coloured renders on north/east-facing walls are prone to patches of green mold during the first winter, producing an on-going suede effect. Application of this unnecessary coating will require damaging the surface of the tiles to make a key, whether by sand-blasting or abrasion, thus ruining them forever. This is irresponsible and far from eco-friendly in many respects. We need only to look many reclaimed pub and shop façades to clearly see how the scars made by paint application and its subsequent indelicate removal processes have caused irreparable damage.
As regards changes, additions and renovations to the rest of the Willen building, I agree that the windows are indeed in need of replacement. However, there are many good quality double-glazed units available these days with fine, thin, profiles/frames, both Crittall-style metal or UPV.
I am keen to know if the plaque on the Lever Street corner will be retained in these renovation plans, as surely it should be. A similar unsympathetic 'white-washing' of the past can be found in nearby City Road where Buckley Gray Yeoman's external renovation of The Epworth Press building uses a too-bright iridescent white coating over the original soft ivory/natural-coloured faience tiles. It is ironic here that the iridescence does not sit well with the natural color employed by the architects for the additional upper floors.
Conversely, for a reference of how renovations of this kind can be sympathetically achieved, please see this example at The Drapery, by Brooks Murray Architects where a once messy site has been cleverly adapted and repurposed to marvelous effect.
I look forward to your reply, or at least an acknowledgment of this letter
Jane Parker / www.janeslondonwalks.com / [email protected] / @janeslondon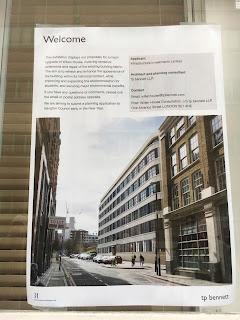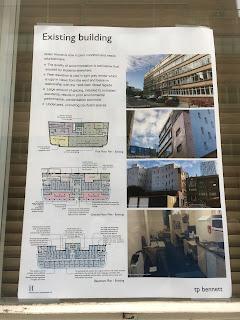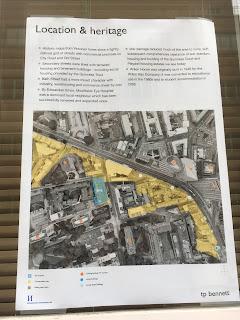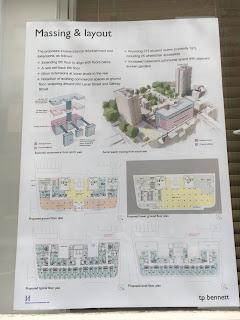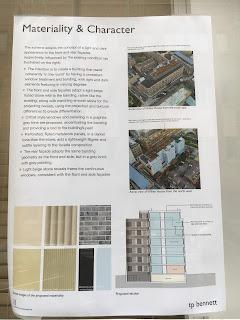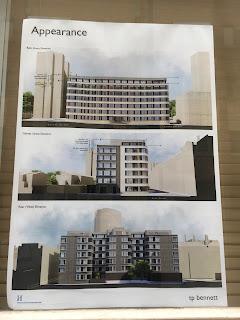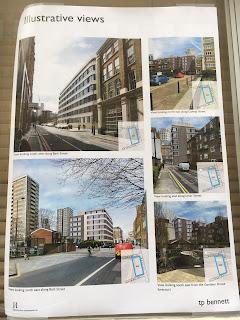 I had no idea 'materiality' was a word until I read this – try saying it out loud – it's almost impossible!