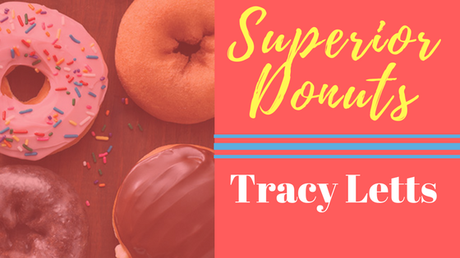 Though it is a play about donuts, Tracy Lett's Superior Donuts is far from revolving on sweet talk alone. Delving deep into in the play will reveal that a touching and highly refreshing take on the way that males bond. Sebastian Bobik of Taste of Cinema explains that "Male friendships have some elements to them that kind of distance them from female friendships. Often things go unspoken and affection is underplayed. Often enough this dynamic can make for very interesting films" (Bobik). However, this can often lead to a lot of them feeling underwritten, underdeveloped or just plain sexist and riddled with inklings of  toxic masculinity. ATTN describes the idea of the a positive depiction of male friendship as "bromances," or very intimate, close friendships between males." In their video titled, The bromance is helping end toxic masculinity, they discuss the way that film and television previously stigmatized physical and intimate relationships between men who weren't in relationships with one another. And this was primarily done because most men feared coming across as homosexual. The bromance initially began as a stereotypical, running joke in film and television, but as gender normatives began shifting, the idea that men could be intimate and stay friend became seemingly normal. However, this is isn't to say that the media is completely devoid of any problematic depictions male friendships currently, even though things are getting better. 
In Superior Donuts, the "bromance" we're presented is neither wholly underwritten or underdeveloped, but frankly, the complete opposite. However, even so, there is an inkling of something problematic underlying as, in the end, one of our leads ends up finding his bliss while the other is reduced to a mere plot device. Our main protagonist, Arthur, is a no-nonsense kind of guy. He's strict, serious and he lacks any sort of decent relationship with his wife and daughter. He runs a donut shop, but, for the most part, he leads a monotonous, mundane existence. However, that is until a young man named Franco Wicks stops by his little shop to shake up his tedious actuality. Franco Wicks is the complete opposite from Arthur. Putting skin color aside, Franco is an optimistic, open-minded writer looking for work and after a little banter between the two, Arthur decides to hire him. Throughout the play, we're constantly bombarded with the Arthur's inability to move forward in his life. He's stuck and it's through his interactions with Franco that inspire his newfound self-discovery. Not only is their friendship unconventional because of their racial differences, which is highlighted in some of the conversations that they have on the topic, but because of their age differences as well. Franco is young, optimistic and striving to do his best, while Arthur has seemingly just given up, but it's Franco that reminds him just how much life has to offer if you let it. 
Although this is seemingly sweet because ultimately, we're subjected to root for Arthur, it feels as if his self-growth can only be expelled at the extent of the minority characters around him like Franco. Falling somewhere in between the concept of the "magical negro" and the "pixie manic dream girl", Franco is not only Arthur's crutch for self-growth, but this is done to the extent that his existence becomes almost miniscule to Arthur's as we near the end of the play. And as not only is his precious manuscript burnt to a crisp, but three of his fingers are brutally cut off and he's left jobless as Arthur sells over his shop after paying off Franco's debt. Therefore, while Franco is seemingly the driving force for Arthur's retribution, he's left with little to nothing to say for all that he's done while Arthur gleams with hope for the promise of a new day.