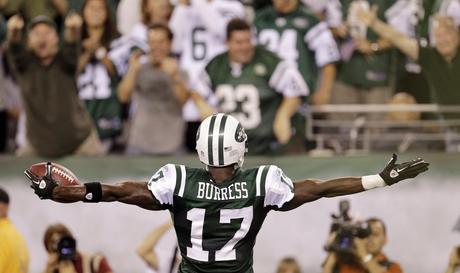 Photo: Associated Press
- Adam Parker
Oddly enough, the Miami Dolphins are not interested in the services of free agent Plaxico Burress to bolster their lackluster receiving corps.
What?!?
Either 'Fins general manager Jeff Ireland is ignorant, or, in the words of former Cardinals head coach Dennis Green, "He's what I thought he was" in that he's just plain dumb.
After all, if you recall, this is the same guy who asked former 2010 Draft pick Dez Bryant if his mom was a 'working girl.'
Needless to say, Ireland doesn't exactly seem like the sharpest tool in the shed.
Why wouldn't you want to bring in Burress for a workout to see if he still has anything left in the tank?
Unless of course the Dolphins know something I don't. But after looking over their roster, it doesn't exactly look like the most awe-inspiring group.
I hate to say it, but I don't see Dan Marino walking through that door to whip this merry band of misfit receivers into the next group of Wes Welkers and Deion Branches of the world ala Tom Brady. Not a chance. Miami's quarterback options are the incumbent Matt Moore, veteran David Garrard and the No. 8 overall pick in this year's draft -- Ryan Tannehill.
This offense can use all the help it can get.
I'm completely flabbergasted by this. 
I find it hilarious that Ireland and the Dolphins turned Burress away in his pursuit of finding work. If anything, the Dolphins should be banging down his door trying to get a competent veteran wideout on their roster to give whoever ends up being the quarterback a reliable target.
They never replaced Brandon Marshall, and seem content to look inward instead of going after a veteran like Burress, Roy Williams or Braylon Edwards.
Don't get me wrong, I love the two young rookie receivers the Dolphins snatched up in last month's draft in Michigan State's B.J. Cunningham and Penn State's Derek Moye; and looking over Miami's remaining receivers, I fully expect Cunningham and/or Moye to compete for a starting job.
I mean, is it fair to expect role players like Brian Hartline and Davone Bess to shoulder the load? Not in the least.
Miami can choose to sit on its hands for now, but if this group doesn't overly impress in camp (or an injury occurs), don't be surprised if Burress gets a call.
Be sure to follow Beard And Stache on Twitter 
@BeardAndStache
, 
and also Adam 
@Adam_Parker43
, Like our Facebook page 
HERE
!