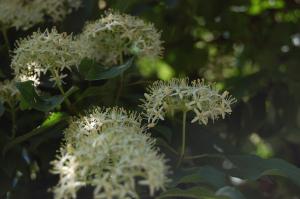 Viburnum lantana flower (26/05/2011)
Position: Flourishes in full sun to partial shade.
Soil: Moist and well drained.
Flowering period: Summer
Eventual Height: 5m
Eventual Spread: 4m
Hardiness: USDA Zone 5a-10b
Family: Adoxaceae
Viburnum lantana is a deciduous shrub with an upright habit. Its foliage is broadly oval and grey green, and the underside of the leaves are covered with dense fine hairs. The leaves redden in autumn. In late spring and early summer it bears five lobed hermaphrodite white flowers produced in dense cymes 5-10cm across. These are followed by egg shaped red fruits which are drupes, that ripen to black and contain one seed. Birds are responsible for eating the fruit of this plant and dispersing its seeds.
V. lantana, commonly known as the Wayfaring tree, is native to northwest Africa, southwest Asia and western Europe. It is a native plant of southern England as far north as Yorkshire. The fruit of this plant are mildly toxic to humans and may cause vomiting or diarrhea if eaten in large amounts.
Viburnum is the Latin name of this plant. Lantana is the ancient Latin name of another unknown Viburnum.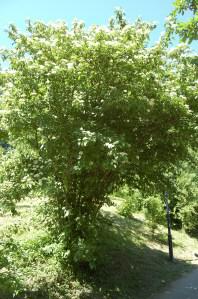 Viburnum lantana (26/05/2011, Prague)
The Landscape architect may find this plant useful as an informal native hedge. Care should be taken when locating this plant with respect to children as its berries can cause mild stomach upsets if consumed. This plant can used part of a native woodland mix, forming a component of the understory as the tree canopy matures.
This plant will tolerate almost any soil conditions; it will be happy in acid, neutral or alkaline pH levels, in loam, sand, clay or chalk in a sheltered or exposed location facing any aspect.
Ecologically this plant will attract many pollinating insects such as bees which enjoy its nectar. Birds and mammals are attracted to this bush for its ripe seeds. This shrub attracts hoverflies which eat the aphids found on this bush.
Maintenance: Little to no maintenance required. Dead or damaged material may be removed in late autumn. This shrub is tolerant of hard pruning.