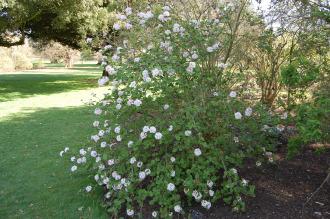 Viburnum carlesii (21/04/2013, Kew Gardens, London)
Position: Full sun to partial shade
Flowering period: Spring
Soil: Moist, well drained
Eventual Height: 2.5m
Eventual Spread: 2m
Hardiness: 4b, 5a, 5b, 6a, 6b, 7a, 7b, 8a, 8b, 9a
Family: Adoxaceae
Viburnum carlesii is a deciduous shrub with a rounded bushy habit. Its dark green leaves are ovate with serrate margins, up to 10cm long and 4cm broad. Its leaves may turn red before they fall in autumn. Its fragrant pink/ red flowers are up to 1cm and appear as domed terminal corymbs and are up to 8cm across. Its red/ black fruit are ellipsoid drupes and up to 6mm long.
Viburnum carlesii, commonly known as the Koreanspice Viburnum, is native to Korea and Japan.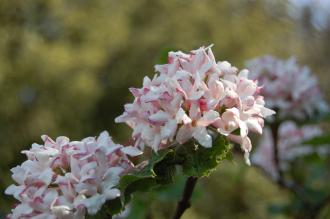 Viburnum carlesii Flower (21/04/2013, Kew Gardens, London)
The etymological root of the binomial name Viburnum is from the old Latin name for the Wayfaring tree (Viburnum lantana). Carlesii is named after William Richard Carles (1848 – 1929), an employee of the British Consular Service.
The landscape architect may find Viburnum carlesii useful as an attractive very fragrant deciduous with a relatively compact habit. This shrub prefers a sheltered location.
Ecologically, Viburnum carlesii flowers are attractive to pollinating insects. Its fruit are attractive to some birds.
The Royal Horticultural Society has given the varieties  Viburnum carlesii 'Aurora' and  Viburnum carlesii  'Diana' their prestigious Award of Garden Merit in 1993 and 2012 respectively.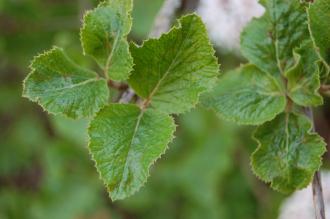 Viburnum carlesii Leaf (21/04/2013, Kew Gardens, London)
Viburnum carlesii prefers moist, fertile, humus rich, well-drained soils. It tolerates most pH of soil.
Viburnum carlesii requires little maintenance. Pruning, if required, should be carried out after flowering.