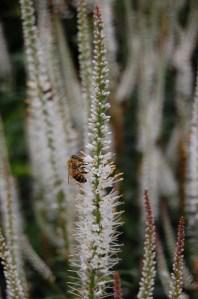 Veronicastrum virginicum 'Album'. flower (10/07/2011, London)
Position: Full sun to partial shade
Soil: Well drained soil
Flowering period: Summer
Eventual Height: 1.2m
Eventual Spread: 45cm
Hardiness: USDA Zone 4a-7b
Family: Plantaginaceae
Veronicastrum virginicum 'Album', commonly known as  Culver's Root, Culvers's Physic, Bowman's Root or Blackroot, is a deciduous perennial with an upright habit. Its stems are clothed in whorls of narrow, dark green leaves and are tipped by spires of small, white, monoecious flowers with pink flushed bases and pink anthers.
V. virginicum, commonly known as Veronica, is native to parts of the United States. It was traditionally used by North American Indian tribes for its effects upon the liver, the digestive tract and on bile production.
Veronicastrum is named for Saint Veronica, who in Christian mythology gave Christ her veil to wipe his forehead while carrying the cross, with virginicum being a Latinised word meaning of or from Virginia. 'Album' is Latin for a 'writing tablet' now used to mean 'white' in reference to the tablets historically being white.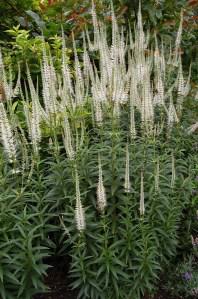 Veronicastrum virginicum 'Album' (10/07/2011, London)
This plant may be useful to the landscape architect in an informal prairie scheme or as part of a mixed planting scheme.
This plant will tolerate many soil conditions; it will be happy at neutral, acid or alkaline pH levels, in loam or clay based soils in an exposed south, east or west facing aspect.
Ecologically this plant will attract pollinating insects such as honey bees and butterflies and despite not being native to this continent it is recommended by the RHS for attracting such pollinators.
Maintenance: This plant requires no maintenance. Old flower spikes may be removed as they fade. This plant may divided in spring when clumps become too large.