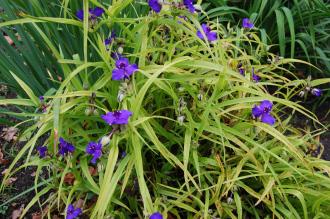 Tradescantia x andersoniana 'Sweet Kate' (21/09/2013, Kew Gardens, London)
Position: Full sun to partial shade
Soil: Moist, well drained
Flowering period: Summer to early autumn
Eventual Height: 60cm
Eventual Spread: 30cm
Hardiness: 4a, 4b, 5a, 5b, 6a, 6b, 7a, 7b, 8a, 8b, 9a, 9b
Family: Commelinaceae
Tradescantia x andersoniana 'Sweet Kate' is a herbaceous perennial with a grass-like tufted habit.  It yellow green leaves are strap like with entire margins, with parallel venation and a center groove held on tubular stems. Its blue/ purple flowers have contrasting yellow stamens and are composed of three petals. Each flower will only bloom for a single day. Its root are rhizomes which aids its spread.
Tradescantia x andersoniana, commonly known as Spiderwort, is likely to be a cross between Tradescantia ohioensis, Tradescantia subspera and Tradescantia virginiana. This plant may be invasive given the right  conditions.
The etymological root of the binomial name Tradescantia is named after John Tradescant (1608-1662) who served as gardener to Charles 1 of England. Andersoniana is named after Edgar Anderson (1897 – 1969), an American botanist.
The landscape architect may Tradescantia x andersoniana 'Sweet Kate' is useful as a low maintenance perennial tolerant shady locations with a long flowering period. It also naturalises effectively and is suitable for ground-cover in woodland schemes.
Ecologically, Tradescantia x andersoniana 'Sweet Kate' flowers are attractive to pollinating insects.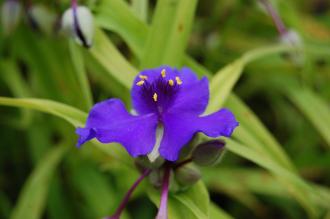 Tradescantia x andersoniana 'Sweet Kate' Flower (21/09/2013, Kew Gardens, London)
Tradescantia virginiana prefers moist, fertile, well-drained soils. It tolerates most pH of soil, although it prefers an acidic pH of soil. It will tolerate wet soils.
Tradescantia virginiana requires little to no care. To keep a tidy appearance this plant may be cut to ground level once flowering is complete in early winter. Large clumps may be divided in autumn to increase plant numbers.