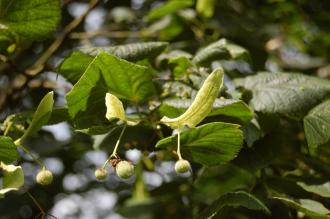 Tilia platyphyllos Flower (28/07/2012, kew Gardens, London)
Position: Sun to partial shade
Flowering period: Summer
Soil: Moist, well drained
Eventual Height: 35m
Eventual Spread: 20m
Hardiness: 5a – 9a
Family: Malvaceae
Tilia platyphyllos is a large, vigorous deciduous tree, with a narrowly domed crown. Its mid green leaves are simple, alternate, cordate with serrate margins, up to 12cm long and have a white down on the underside. Its leaves turn yellow before falling in autumn. Its branches spread upwards. Its trunk. Its bark is dark gray with fine fissures. Its yellow fragrant flowers are arranged in drooping cymose clusters and have a white/ green oblong bract. Its fruit is a small spherical nutlet which is up to 1cm across.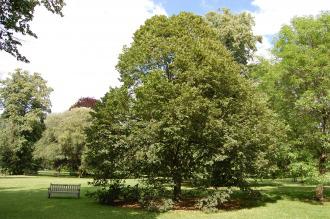 Tilia platyphyllos (28/07/2012, kew Gardens, London)
Tilia platyphyllos, commonly known as the Large Leaved Lime, Broad Leaved Lime or Large Leaved Linden, is native to most of Europe, (including UK). The flowers of this tree have a long medical history.
The etymological root of the binomial name Tilia is the ancient Latin name for the Lime Tree. Platyphyllos is derived from the Greek platos meaning 'wide' and fullon meaning 'leaf'
The landscape architect may find  Tilia platyphyllos useful as a large parkland tree, or where space permits a street tree (as it remains free of suckers). It is also a suitable hedging species or for use as a tree for pleaching. This tree is tolerant of urban pollution.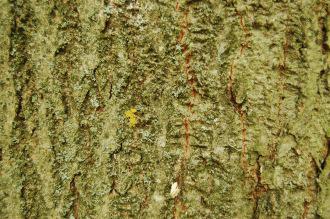 Tilia platyphyllos Bark (28/07/2012, Kew Gardens, London)
Ecologically, T. platyphyllos is attractive to bees. Numerous insects eat the leaves of this tree.
T. platyphyllos prefers moist, fertile, well-drained soils. It will tolerate most pH of soil, although it prefers an alkali pH.
Tilia platyphyllos requires little maintenance. Pruning should be carried out during the dormant season.