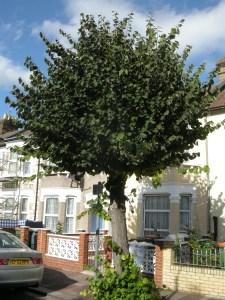 Tilia × europaea (12/09/2011, London)
Position: Full sun to partial shade
Flowering period: Early summer
Soil: Well drained
Eventual Height: 40m
Eventual Spread: 15m
Hardiness: USDA Zones 3a-9a
Family: Malvaceae
Tilia x europaea is a large deciduous tree which may grow up to 50m tall and it's trunk may achieve a circumference  of 2.5m. It's leaves are 6-15cm long and 6-12cm broad. They are asymmetrical and have a heart shaped outline. The underside of the leaf is hairy with tufts of denser hairs along the leaf vein axis. It's hermaphrodite flowers are fragrant and are produced in clusters of four to ten in early summer with a leafy yellow green subtending bract. The fruit is a dry nut-like drupe 8mm in diameter and is downy and faintly ribbed in appearance. The bark of this tree is fine grained in texture and its inner bark is quite stringy.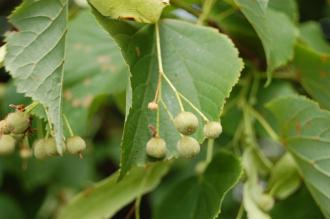 Tilia x euroaea Seed (28/07/2012, Kew Gardens, London)
Tilia x europaea, commonly known as the Common Lime or the Linden, is a naturally occurring hybrid between Tilia cordata and the Tilia platyphyllos. Tilia x europaea is synonymous with Tilia x vulgaris. It naturally occurs in the wild in Europe at various locations. It is also listed as Brittan's tallest broad leafed tree reaching a height of 40m.
The etymological root of the binomial name Tilia is the old Latin name for the Lime tree. Europaea is derived from the Latin meaning of or from Europe.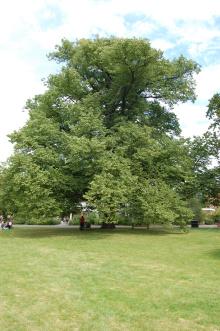 Tilia x euroaea (28/07/2012, Kew Gardens, London)
The landscape architect may find Tilia x europaea useful as a large parkland tree. Although often used as an avenue tree it is not the best suited Lime for this purpose  as it will require a lot a pruning due to its eventual size, it produces sprouts from it's base and due to the large populations of aphids this tree harbors, honeydew below the canopy can be a problem. It can tolerate strong winds but not maritime conditions.
Ecologically, Tilia x europaea provides a valuable source of food for aphids who feed on it's leaves. The sweet smelling flowers of this tree attract bee's which enjoy the tree's abundant nectar. This tree also is great at attracting moths such as the green caterpillar or lime hawk moth which feed on the tree's leaves.
Tilia x europaea is tolerant of most soils from sandy to clay soils, as long as it is well drained soil. It can also grow in nutritionally poor soils. It requires a soil pH of acid to alkali.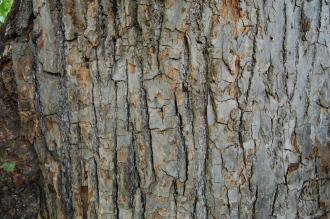 Tilia x euroaea Bark (28/07/2012, Kew Gardens, London)
The Royal Horticultural Society has given Tilia x europaea 'Wratislaviensis' their prestigious Award of Garden Merit in 1993.
Tilia x europaea requires little maintenance and can tolerate heavy pruning when necessary. This tree is suitable for pollarding. If the specimen is being pollarded it should be carried out every year or every other year and should be carried out in late winter or early spring.