Position: Flourishes in full sun.
Soil: Moist but well drained.
Flowering period: Summer.
Eventual Height: 75cm
Eventual Spread: 75cm
Hardiness: USDA Zone 3a-8b
Family: Rosaceae 
Spiraea japonica 'Goldflame' is a deciduous shrub with a clump forming habit. It has bronze-red young leaves which turn bright yellow and then mid-green. It bears pink flowers in terminal clusters.
Of the japonica cultivars, 'Goldflame' was probably the first selected for coloured instead of variegated foliage. It is believed to have arisen as a branch sport of 'Anthony Waterer' and has continued to prove popular since its introduction over 30 years ago.
Spiraea is derived from the Greek speira, meaning 'a wreath', with japonica meaning 'of or from Japan'. 'Goldflame' is in reference to the coloured foliage.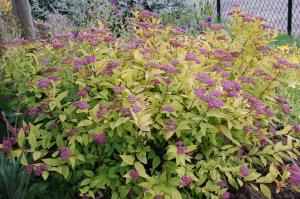 Spirea japonica 'Goldflame' (14/05/2011, Paris)
The landscape architect may find this plant is useful as an effective low ground cover low maintenance plant. Its low height makes this plant useful for planting under windowsills.
This plant will tolerate almost any soil conditions; it will be happy in acid, neutral or alkaline pH levels, in loam, sand, clay or chalk and facing any aspect in a sheltered or exposed location.
Ecologically it is valuable as it attracts bees and other nectar loving insects during it flowering period.
The Royal Horticultural Society have given it their prestigious Award of Garden Merit.
Maintenance: It can be pruned to near ground level after flowering to encourage new shoots and encourage a formal habit.