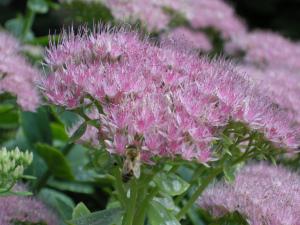 Sedum spectabile 'Brilliant' flower (24/07/2011, London)
Position: Full sun
Soil: well drained soil
Flowering period: Summer and autumn
Eventual Height: 45cm
Eventual Spread: 45cm
Hardiness: USDA Zone 3a-10b
Family: Crassulaceae
 Sedum spectabile 'Brilliant' is a herbaceous perennial with a clump forming habit. Its thick stems bear broadly elliptic, indented, fleshy grey green leaves. From August to November it bears a profusion of flat terminal cymes, composed of tiny dark-centred, bright pink flowers.
 S. spectabile, commonly known as the Ice Plant and in some botanical circles as Hylotelephium spectabile, is native to eastern Asia including China, Korea and Manchuria.
 Sedum is believed to be derived from sedentary and spectabile is likewise believed to be derived from spectacular but we would invite reader input on the exact etymology of these Latinised words.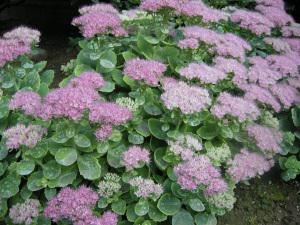 Sedum spectabile 'Brilliant' (24/07/2011, London)
This plant may be useful to the landscape architect in an informal prairie scheme or as part of a mixed planting scheme. It is also useful for its drought tolerance and goes well with other sun loving low maintenance plants such as Miscanthus sinensis.
The Royal Horticultural Society gave this plant their prestigious Award of Garden Merit in 1993.
This plant will tolerate many soil conditions; it will be happy at neutral or alkaline pH levels, in loam, chalk or sand based soils, and prefers a south facing, exposed aspect.
Ecologically this plant will attract many species of pollinating insects such as honey bees and butterflies.
Maintenance: This plant requires little to no maintenance. It may be cut back to the ground in autumn to maintain a tidy winter appearance. Alternatively it may be pruned to ground level in early spring to allow the flower heads remain over winter as they do look attractive as they dry over winter months. When clumps become large they may be divided in spring.