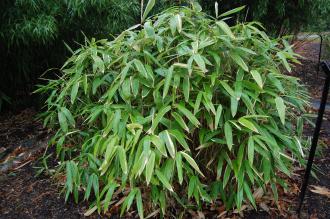 Sasa tsuboiana (06/01/2013, Kew Gardens, London)
Position: Partial shade
Flowering period: N/A
Soil: Moist, well drained
Eventual Height: 1.5m
Eventual Spread: 2m
Hardiness: 6a – 9a
Family: Poaceae
Sasa tsuboiana is a low growing, evergreen, moderately spreading bamboo with a dense habit. Its glossy mid green leaves are linear with entire margins, up to 25cm long and 4cm broad. Its culms are up to 1.5cm in diameter and usually covered in a light brown culm sheath. Its flowers is a panicle, as with most bamboos the plant will die after flowering. Its fruit. Its roots are rhizomes which aids its slow spread.
Sasa tsuboiana, commonly known as Japanese Bamboo, is native to Japan.
The etymological root of the binomial name Sasa is from the Japanese name for certain dwarf bamboos. Tsuboiana is named after Isuke Tsuboi (1843 – 1925), a bamboo grower of Japan.
The landscape architect may find Sasa tsuboiana useful as a low growing informal hedging bamboo. It is an effective ground cover bamboo and is suitable for woodland planting.
Ecologically, Sasa tsuboiana is of little wildlife value in the UK.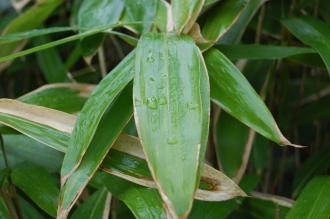 Sasa tsuboiana Leaf (06/01/2013, Kew Gardens, London)
Sasa tsuboiana prefers moist, fertile, humus rich, well-drained soils. It tolerates most pH of soil.
Sasa tsuboiana requires little maintenance. A root barrier may be installed to prevent the excessive spread in compact locations.