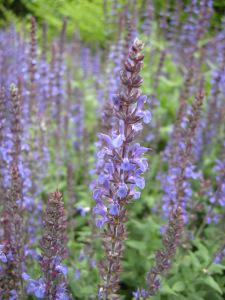 Salvia nemorosa flower (27/05/2011, Prague)
Position: Flourishes in full sun to light shade.
Soil: Moist and well drained.
Flowering period: Summer to autumn.
Eventual Height: 1m
Eventual Spread: 45cm
Hardiness: USDA Zone 5a-10b
Family: Lamiaceae
Salvia nemorosa is an herbaceous perennial with a clump forming habit. Its mid green leaves are narrowly oval and rough. In summer until autumn it will bear branching racemes, densely set with whorls of violet-blue flowers.
S. nemorosa, commonly known as woodland sage, is native to much of central Europe and western Asia. Sage was traditionally used by herbalists to treat maladies of the head; John Gerard noted in The Healing Herbs that is was 'singularly good for the head and brain. It quickeneth the senses and memory, strengthens the sinews, restores health to those that have palsy, and taketh away shaky trembling of the members'.
Salvia is derived from the Latin 'salvare', meaning to 'save' or 'heal', in reference to its historical use as a medicinal plant. Nemorosa is also Latin meaning 'shady', in reference to its woodland origins.
Salvia nemorosa (27/05/2011, Prague)
The Landscape architect may find this plant useful in prairie style planting schemes and wildlife gardens. It is also suitable for use in xeriscaping. This plant is is deer resistant.
This plant will tolerate many soil conditions; it will be happy in neutral or alkaline pH levels, in loam, sand or chalk based soils but will prefere an east or south facing location that can be either sheltered or exposed.
Ecologically this plant will attract many pollinating insects such as butterflies and bees.
The Royal Horticultural Society have given the cultivars S. nemorosa 'Amethyst',  'Lubecca', 'Ostfriesland' and 'Porzellan' their prestigious Award of Garden Merit.
Maintenance: Little maintenance required. To prolong flowering the flower spikes may be removed as soon as they start to fade.