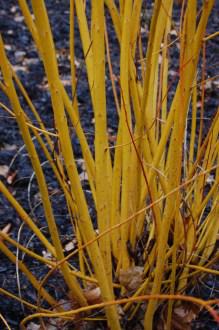 Salix alba 'Vitellina' (18/02/2012, Kew, London)
Position: Full sun to partial shade
Flowering period: Spring
Soil: Moist, well drained 
Eventual Height: 20m
Eventual Spread: 10m
Hardiness: 3a – 9b
Family: Salicaceae
Salix alba 'Vitellina' is a fast growing, medium/ large deciduous tree. Its narrow lanceolate leaves are pale green in colour, have a covering of fine hairs which is more prominent on the underside and are up 10cm long. The branches of the tree ascend from the trunk. The trunk may achieve a diameter of 1m and the bark of the tree is deeply fissured and grayish brown in color. The year old branches of this tree are bright yellow or orange in colour, these dull with age. The flowers are produced in catkins and are dioecious with male and female catkins on separate trees. The seeds are green and fluffy and are released in summer by the female catkins.
The species Salix alba, commonly known as White Willow, is native to Europe and western and central Asia. Salix alba 'Vitellina'  is commonly known as the Golden Willow and has been cultivated since Roman times.
The etymological root of the binomial name Salix is derived from the old Latin name for the willow tree and is possibly derived from the old Celtic 'sal' meaning near and 'lis' meaning water. Alba is from the latin meaning 'white', referring to the underside of the leaves. Vitellina is derived from thee Latin vitellus 'yolk of egg', referring to the color of the trees newly formed stems.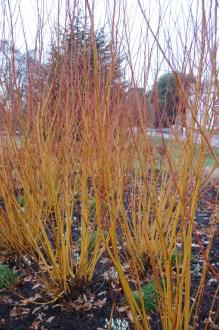 Salix alba 'Vitellina' (18/02/2012, Kew, London)
The landscape architect may find Salix alba 'Vitellina' useful when planted en mass and stooled or coppiced on a regular basis, this creates a dramatic effect of bright orange winter stems. It can be planted in cold and exposed locations.
Ecologically, S. alba 'Vitellina' flowers provide food for insects in spring and the coppiced stems provide shelter and cover for birds and small mammals.
The Royal Horticultural Society has given S. alba 'Vitellina' their prestigious Award of Garden Merit in 1993.
S. alba 'Vitellina' prefers moist, fertile, well-drained soils. It tolerates most pH of soil. It grows well in wet and waterlogged soils.
To maximise the potential of  S. alba 'Vitellina', it should be stooled or coppiced on an annual or biennial basis in spring before leaf burst.
Advertisement