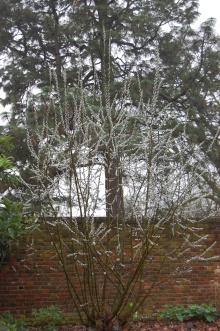 Salix aegyptiaca (06/01/2013, Kew Gardens, London)
Position: Full sun to light shade
Flowering period: Winter
Soil: Moist, well drained
Eventual Height: 4m
Eventual Spread: 5m
Hardiness: 6a – 9a
Family: Salicaceae
Salix aegyptiaca is a fast growing deciduous large shrub or small tree. Its deep green leaves are lanceolate with serrulate margins, up to 15cm long and 3cm broad. Its branches are purple/ red. Its dioecious flowers are in the form of fragrant catkins, these are initially gray. The male are up to 4cm long and produce yellow anthers, the female are up to 75mm long.
Salix aegyptiaca, commonly known as Musk Willow or Armenian Willow, is native to North Africa and south west Asia.
The etymological root of the binomial name Salix is derived from the old Latin name for the willow tree and is possibly derived from the old Celtic 'sal' meaning near and 'lis' meaning water. I believe Aegyptiaca is derived from the Latin Aegyptia meaning 'Egypt'.
The landscape architect may find Salix aegyptiaca useful as an attractive large spring shrub. This tree is unattractive to rabbits and deer.
Ecologically, Salix aegyptiaca flowers are attractive to pollinating insects.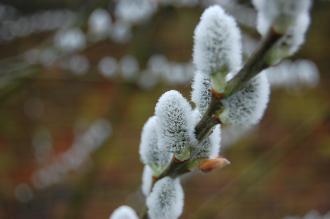 Salix aegyptiaca Buds (06/01/2013, Kew Gardens, London)
Salix aegyptiaca prefers moist, fertile, well-drained soils. It tolerates most pH of soil. This shrub will tolerate wet soils.
Salix aegyptiaca requires little maintenance. This shrub may be stooled to 10cm above ground level in late spring to produce a more compact shrub.