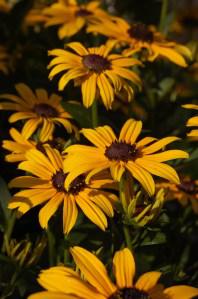 Rudbeckia 'Goldsturm' flower (06/08/2011, London)
Position: Full sun to partial shade
Soil: Moist, well drained soil
Flowering period: Summer and autumn
Eventual Height: 75cm
Eventual Spread:50cm
Hardiness: USDA Zone 3a-9b
Family: Asteraceae
Rudbeckia fulgida var. sullivantii 'Goldsturm' is a deciduous herbaceous perennial with a clump forming habit. It has narrow, rough, mid green leaves clumped around erect flower bearing stems. Its flowers which are 12cm across are borne in late summer to autumn, are terminal, hermaphroditic and daisy like with golden, conical flower heads that have dark centres.
Rudbeckia fulgida var. sullivantii 'Goldsturm', commonly known as the Orange Coneflower (as well as Echinacea) or Black Eyed Susan, was introduced by Karl Foerster in 1937 after being spotted by his employee Heinrich Hagemann at a botanic garden in Czechoslovakia.
Rudbeckia was named for Olof Rudbeck and his son, who was also named  Olof, who were 17th century Swedish botanists. Fulgida means 'shiny' or 'glittering' in Latin . sullivantii was named for William Starling Sullivant, a 19th century American bryologist.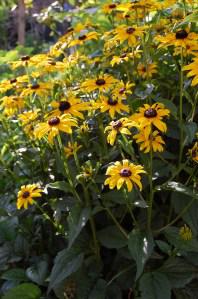 Rudbeckia 'Goldsturm' (06/08/2011, London)
The landscape architect may find this plant useful as a low maintenance herbaceous perennial with a long flowering period. It is suitable for planting en mass and for prairie style planting. Its stiff erects stems make this plant particularly suitable for the commercial landscape as is does not require staking.
The royal horticultural society gave this plant their prestigious Award of Garden Merit in 1993.
This plant will tolerate almost any soil conditions; it will be happy at neutral, alkaline or acid pH levels, in loam, clay or chalk based soils, preferring an east, west or south facing sheltered or exposed aspect
Ecologically this plant will attract various species of pollinating insects such as honey bees and butterflies. Various species of terrestrial gastropod along the with the larval stage of some species of lepidoptera will feed on its foliage.
Maintenance: This plant may be dead-headed early in the season to prolong the flowering period. The seed heads may be left for the winter months for interest, the plant may then be cut to ground level in late winter just before the spring shoots appear. Large clumps of this flower may be divided in spring.