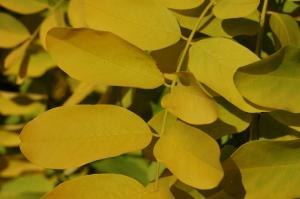 Robinia pseudoacacia 'Frisia' leaf (15/10/2011, London)
Position: Full sun 
Flowering period: Spring to early summer
Soil: Well drained
Eventual Height: 25m
Eventual Spread: 10m
Hardiness: USDA Zones 5a-9b
Family: Fabaceae
Robinia pseudoacacia is a fast growing deciduous tree with an open canopy and rounded upright habit. The trunk of this tree can achieve a diameter of around 0.8m. The bark of the tree is thick, and deeply furrowed with a blackish colour. The branches of this tree are brittle and the smaller ones contain thorns. It's leaves are yellow in summer turning darker shades of  yellow to orange in the autumn. The individual leaves are 2-5 cm long and 1.5 – 3 cm broad. They are  arranged parallel, compound, odd-pinnate with each leaf usually having a pair of short thorns at the base. The hermaphrodite flowers are white, borne in pendulous racemes, 8 – 20 cm long and are fragrant. The fruit is a legume is a 5 -10 cm long, containing 4 – 10 seeds. The roots of this tree fix nitrogen in the soil.
Robinia pseudoacacia 'Frisia', commonly known as the Golden Locust, is native to the southeastern United States, but has been widely planted and naturalized elsewhere in temperate North America, Europe, Southern Africa and Asia. In Europe it is often planted alongside streets and in parks, especially in large cities because it tolerates pollution well. This tree was introduced into Britain in 1636, but is now less common than it was during the first half of the 19th century. The English Gardener William Cobbett, promoted use of its wood as an integral part of shipbuilding.
There have been reports that specimens of this variety of Robinia pseudoacacia are failing to come fully into leaf an eventually dying. It is speculated that interactions between several factors could account for this tree's decline. It is thought that wilt fungus is one of the likely causes.
The etymological root of the binomial name Robinia is named after Jean Robin, a French botanist and herbalist to Henry IV of France, and Vespasien Robin, his sons. Pseudoacacia is derived from the Latin pseudo means 'false' and acacia referring to the plant of that name i.e 'like and Acacia'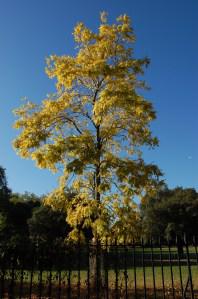 Robinia pseudoacacia 'Frisia' (15/10/2011, London)
The landscape architect may find Robinia pseudoacacia 'Frisia' useful for urban planting as it is able to tolerate pollution and poor soil conditions. It makes a good parkland tree due to its attractive leaf and autumn colour. Care should be taken when locating this tree as the thorny smaller branches to have a tendency to fall off.
Ecologically this plant is attractive to bees and butterflies as it's flowers are fragrant and allow for pollination.
Robinia pseudoacacia 'Frisia' can tolerate most soils. It requires a well drained soil, and will tolerate nutritionally poor soil and is able to withstand drought conditions.
Robinia pseudoacacia 'Frisia' was awarded the RHS Award of Garden Merit in 1993.
Maintenance: This plant requires little maintenance.