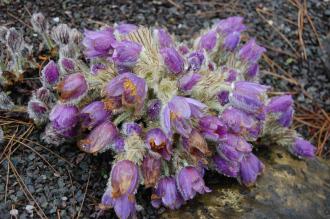 Pulsatilla vulgaris (23/03/2013, Kew Gardens, London)
Position: Full sun
Flowering period: Spring
Soil: Moist, very well drained
Eventual Height: 20cm
Eventual Spread: 20cm
Hardiness: 4a – 9b
Family: Ranunculaceae
Pulsatilla vulgaris is a deciduous herbaceous perennial with a clump forming habit. Its grey/ green leaves are finely dissected, covered in fine silky hairs, up to 5cm long, arranged in rosettes and appear at the same times as the leaves. Its purple flowers are goblet shaped and up to 9cm across. Its fruit are silky fruiting heads. Its roots are rhizomes which may achieve a depth of up to 1m.
Pulsatilla vulgaris, commonly known as Pasqueflower or Pasque Flower, is native to most of Europe, including the UK. In its native habitat it grows on calcareous grassland on south or south west facing slopes.
The etymological root of the binomial name Pulsatilla is derived from the Latin pulsare meaning 'to pulsate' in reference to the movement of the flowers in the wind. Vulgaris is from the Latin meaning 'common'.
The landscape architect may find Pulsatilla vulgaris useful as a rock garden plant. This plant takes a while to establish and resents being moved. Once established this perennial is drought tolerant.
Ecologically, Pulsatilla vulgaris is attractive to pollinating insects.
The Royal Horticultural Society has given Pulsatilla vulgaris their prestigious Award of Garden Merit in 1993.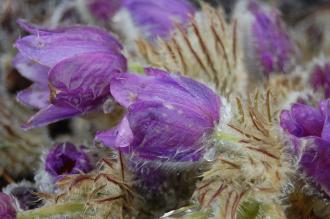 Pulsatilla vulgaris Flower (23/03/2013, Kew Gardens, London)
Pulsatilla vulgaris prefers moist, fertile, very well-drained soils. It tolerates most pH of soil. It will not tolerate wet soils.
Pulsatilla vulgaris requires little maintenance.