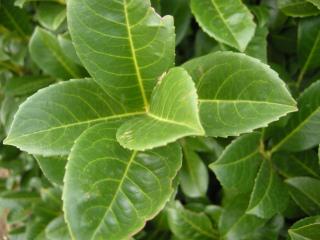 Prunus laurocerasus detail (Cambridge, 03/11/2011)
Position: Full sun to partial shade
Flowering period: Spring
Soil: Well-drained, neutral to alkaline soil
Eventual Height: 8m
Eventual Spread: 8m
Hardiness: USDA Zones 6a – 8b
Family: Rosaceae
Prunus laurocerasus is an evergreen shrub or small tree with a bushy growth habit. The leaves of the plant are dark green, leathery and shiny. They are 5 – 10 cm wide and 4 – 10 cm broad, with a finely serrated margin. The leaves give off the smell of almonds when crushed. The flower buds appear in early spring and open in early summer in erect 7 – 15 cm racemes of 30 – 40 flowers , each one being 1 cm broad, with 5 creamy white petals and numerous yellow stamens. The fruit is a small cherry, glossy red and turns black in early autumn. 
Prunus laurocerasus, commonly known as the Cherry laurel or English laurel, is native to regions bordering the Black Sea in southwestern Asia and southeastern Europe. The common name refers to the similarity of the foliage to Bay laurel. In some regions such as the United Kingdom, this species can be quite an invasive species, spreading by seed and layering, with birds eating the seeds aiding its spread. This plant is also noted as being a poisonous species, the poisonous part being the seed, stems and wilted leaves. It was first introduced into Europe by Clusius in 1576. He received it from David Ungnad, who was at the time ambassador of the Emperor at Constantinople.
The etymological root of the binomial name for Prunus is the classical Latin name of the plum tree. Laurocerasus is derived from the Latin laurus 'Laurel' and cerasus 'a Cherry' i.e. a Cherry that is like a Laurel.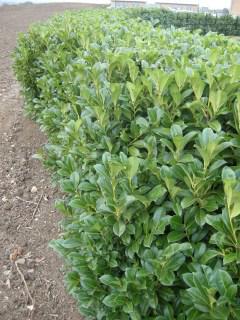 Prunus laurocerasus (Cambridge, 03/11/2011)
The landscape architect may find Prunus laurocerasus useful as an evergreen hedging plant . It also makes an effective back-foil for areas of ornamental and herbaceous planting. Once established this plant is drought tolerant.
Ecologically, the flowers attractive to birds, who like to consume its seed.
P. laurocerasus has been awarded the prestigious Royal Horticultural Societies annual Award of Garden Merit in 1993.
P. laurocerasus prefers a fertile, well-drained soil. It will tolerate most pH of soils although shallow chalky soils should be avoided.
Maintenance: This plant requires little maintenance. Hedge pruning should be carried out  in late winter or early spring.