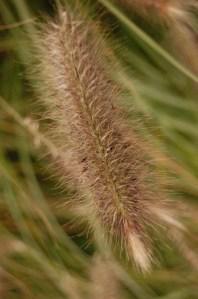 Pennisetum alopecuroides 'Hameln' flower (16/10/2011, London)
Position: Full Sun
Flowering period: Late summer early autumn
Soil: Well Drained
Eventual Height: 60cm
Eventual Spread: 60cm
Hardiness: USDA Zones 5a – 9b
Family: Poaceae
Pennisetum Alopecuroides 'Hameln' is a clump forming herbaceous species of perennial grass. It's leaf blades radiate directly from the basal crowns, being medium green, arching and finely textured. They are linear in form and turn a shade of yellow in autumn before frost. The flowers are a pale purple in early autumn and are 12cm long and appear in the form of bristly spikes, having a very fine textured bottle-brush effect. They radiate on long thin stalks above the foliage and will persist through the winter months.
P. alopecuroides 'Hameln', commonly known as the Dwarf Fountain Grass, Chinese Fountain Grass, Foxtail Fountain Grass or Swamp Foxtail Grass, is native to Eastern Asia and Australia. It's native habitats include meadows, open woodlands and alongside streams.
The etymology root of the binomial name Pennisetum is derived from the Latin penna 'feather' and seta 'bristle' in reference to the seed heads. Alopecuroides is derived from the Greek ekos 'a fox' and oura 'a tail' which refers to the shape of the flowers.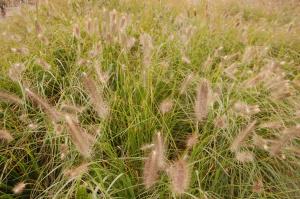 Pennisetum alopecuroides 'Hameln' (16/10/2011, London)
The landscape architect may find Pennisetum Alopecuroides 'Hameln'  useful as part of a prairie type planting scheme. It also looks fantastic when planted en mass. This plant will be happy in boggy areas. This plant is mostly drought tolerant once established.
Ecologically this plant is attractive to birds.
P. alopecuroides 'Hameln' will tolerate most soil types. It will be quite happy in well drained moist soils and will tolerate poor soils with occasional drought.
Maintenance: This plant requires little maintenance. Large clumps of this plant may be divided in spring (usually ever three years). Plant should be cut to ground level in spring just before the new leaves appear.