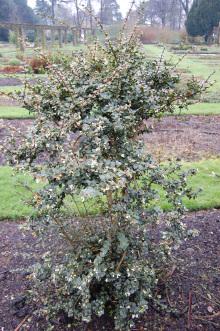 Osmanthus delavayi (23/03/2013, Kew Gardens, London)
Position: Full sun to partial shade
Flowering period: Mid to late spring
Soil: Moist, well drained
Eventual Height: 4m
Eventual Spread: 4m
Hardiness: 7b – 9b
Family: Oleaceae
Osmanthus delavayi is a slow growing, evergreen shrub with a rounded, bushy habit. Its dark green leaves are glossy, ovate/ rounded with fine dentate margins and are up to 2.5cm long and 2cm broad. Its white, fragrant flowers are small with tubular, spreading lobes and are produced in axillary clusters. Its black/ blue fruit are berries and these appear in autumn.
Osmanthus delavayi, commonly known as Dalavay Osmanthus or Delavay Tea Olive, is native to south China. In its native habitat it grows in mountainous woodlands.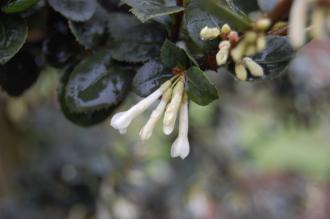 Osmanthus delavayi Flower (23/03/2013, Kew Gardens, London)
The etymological root of the binomial name Osmanthus is derived from the Greek osme meaning 'perfume' and anthus meaning 'flower'. Delavayi is named after Fr. Pierre Jean Marie Delavay (1834 – 1895), a missionary botanist.
The landscape architect may find Osmanthus delavayi useful an attractive evergreen fragrant shrub, particularly in dappled shade locations, including woodlands. It also makes an effective evergreen hedging. It will not tolerate exposed sites.
Ecologically, Osmanthus delavayi is attractive to pollinating insects.
The Royal Horticultural Society has given Osmanthus delavayi their prestigious Award of Garden Merit in 1993.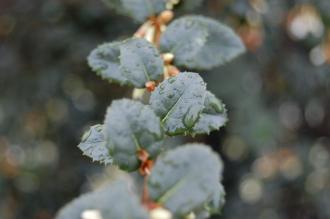 Osmanthus delavayi Leaf (23/03/2013, Kew Gardens, London)
Osmanthus delavayi prefers moist, fertile, well-drained soils. It tolerates most pH of soil. It will not tolerate waterlogged soils.
Osmanthus delavayi requires little maintenance. If being maintained as a hedge, it should be pruned after flowering.