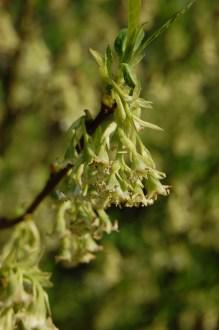 Oemleria cerasiformis After flowering (11/03/2012, Kew, London)
Position: Full sun to dappled shade
Flowering period: Late winter
Soil: Moist, well drained
Eventual Height: 5m
Eventual Spread:  4m
Hardiness: 6a – 10
Family: Rosaceae
Oemleria cerasiformis is a medium sized, erect, deciduous shrub. Its mid green leaves are alternate, simple, lance shaped,  have an entire margin and are up to 12cm long. They are pale grey/ green on the underside, have a fuzzy appearance and  give off a cucumber or watermelon scent. The bark is smooth, red/ brown to dark gray in color. The white/ green dioecious flowers of the plant are borne in pendant racemes of bell shaped flowers and appear before the leaves. The fruit is an ovoid drupe, orange to yellow in color when young, becoming blue/ black when mature and is up to 15mm long.
Oemleria cerasiformis, commonly known as Osoberry or Indian Plum, is native to the Pacific coast of North America. O. cerasiformis is the sole species in the genus Oemleria. The native Americans make a tea of the bark or chew the leaves for its mild anesthetic properties. The fruit are not particularly edible as the common name might suggest as they are very bitter. The male flowers may produce an unpleasant smell.
The etymological root of the binomial name Oemleria is named after Augustus Gottlieb Oemler (1773-1852), a German naturalist who settled in the USA. Cerasiformis is derived from the Latin cerasus 'Cherry tree' and forma 'shape'.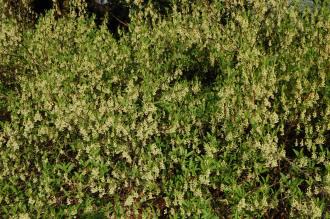 Oemleria cerasiformis (11/03/2012, Kew, London)
The landscape architect may find Oemleria cerasiformis useful as a medium sized ground cover shrub, when planted en mass. It will form an effective formal or informal hedge. It is suitable for woodland edge type planting.
Ecologically, O. cerasiformis is attractive to animals such as Birds, deer, foxes, rodents who consume its drupe like fruit. The flowers are also a nectar source for bees. 
O. cerasiformis prefers moist, humus rich, well-drained soils. It tolerates most pH of soil.
O. cerasiformis requires little maintenance. If maintaining as a hedge it should be cut after flowering. It may be cut to ground level to rejuvenate an over-mature plant.