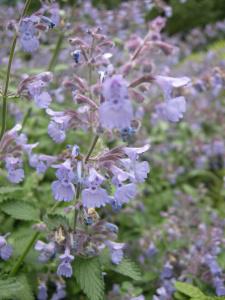 Nepeta x faassenii flower (09/06/2011, London)
Position: Flourishes in full sun to partial shade.
Soil: Well drained.
Flowering period: Early summer to early autumn.
Eventual Height: 45cm
Eventual Spread:  45cm
Hardiness: USDA Zone 3aa-8b
Family: Lamiaceae
Nepeta x faassenii is a deciduous perennial with a clump forming habit. Its foliage is held on erect to spreading branched stems with the leaves being narrowly ovate to lance shaped, scalloped, wrinkled, hairy, aromatic and grey-green to silvery in colour. It freely bears spike like whorled cymes of lavender-blue flowers with darker purple spots.
Nepeta x faassenii, commonly known as Faassen's Catnip is cross of N. racemosa with N. nepetella resulting in an unusually small plant for the genus. This plant is popularly given to pet cats as a recreational drug and it will have unique effects on their psyche, eliciting responses such as rolling, pawing, and frisking and since it is apparently enjoyable for them they may consume much of the plant if it is placed somewhere with a large cat population. Traditionally it is supposed to make humans aggressive and some sources say the hangman, in order to enable him to more easily perform his duties consumed it.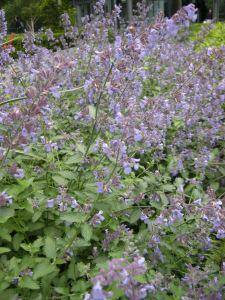 Nepeta x faassenii (09/06/2011, London)
Nepeta is possibly derived from the common name Ivy of Nepete, where Nepete was the Etruscan town, which notably grew the plant. x faassenii was named for J.H. Faassen, Dutch nurseryman who developed the first Nepeta hybrids.
This plant may be useful to the landscape architect as an effective low growing ground cover plant with a long flowering period. This plant also provides a pleasant fragrance when bruised.
This plant will tolerate almost any soil conditions; it will be happy in acid, neutral or alkaline pH levels, in loam, sand, chalk or clay based soils in a sheltered or exposed location facing any aspect except north.
Ecologically it is valuable as it attracts bees, butterflies and other nectar loving insects during it flowering period. The larvae of some Lepidoptera also find its foliage appealing.
Maintenance: Requires little to no maintenance. It may be trimmed back after flowering to encourage a second flowering and maintain a tidy habit.