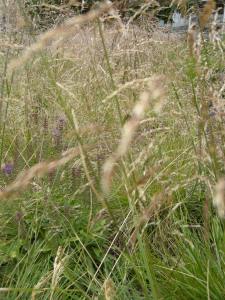 Nassella tenuissima detail (09/06/2011, London)
Position: Flourishes in full sun.
Soil: Moist and well drained.
Flowering period: Summer.
Eventual Height: 60cm
Eventual Spread:  30cm
Hardiness: USDA Zone 7a-10b
Family: Poaceae
Nassella tenuissima is a deciduous grass with a tufted habit. Its foliage is composed of narrow linear to filament-like, tightly inrolled bright green leaves. Throughout the summer it will bear a profusion of narrow nodding, softly feathery panicles that are up to 30cm long and greenish white at first becoming buff.
N. tenuissima, commonly known as Mexican Feather Grass is native to Chile, Texas, New Mexico, Mexico and Argentina. It was also known under the botanical name Stipa tenuissima until very recently.
Nassella is derived from the Latin nassa which was a basket with a narrow neck that was used to catch fish, with tenuissima also being derived from the Latin; tenuis meaning 'slender' and the whole name to mean 'most slender'.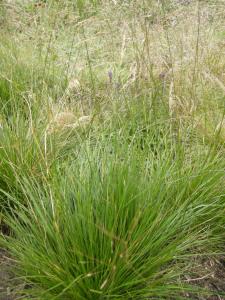 Nassella tenuissima (09/06/2011, London)
This plant may be useful to the landscape architect as a maintenance free  grass in a prairie style scheme. As it is drought tolerant it is also suited to xeriscaping. In warmer climates this plant may become invasive, growing in cracks of paved areas, it has already become naturalised on the south west coast of America and is prohibited in Australia.
This plant will tolerate almost any soil conditions; it will be happy in acid, neutral or alkaline pH levels, in loam, sand, chalk or clay based soils in a sheltered or exposed location facing any aspect.
This plant will not have a large positive ecological impact as it is not native to this continent and as such has no established symbiotic relationships or organisms, which prefer it as a habitat.
Maintenance: Requires no maintenance. Dead material may be cut back to the ground in late autumn.