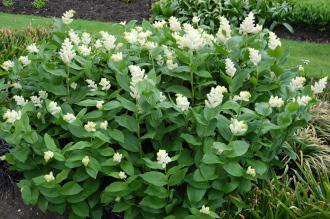 Maianthemum racemosum (18/05/2013, Kew Gardens, London)
Position: Partial to full shade
Flowering period: Late spring
Soil: Moist, well drained
Eventual Height: 90cm
Eventual Spread: 60cm
Hardiness: 3a, 3b, 4a, 4b, 5a, 5b, 6a, 6b, 7a, 7b, 8a, 8b, 9a, 9b
Family: Asparagaceae
Maianthemum racemosum is a deciduous herbaceous perennial with a clump forming habit. Its dark green leaves are elliptic/ lanceolate  with entire margins, up to 15cm long and 6cm broad. Its leaves turn yellow before they fall in autumn. Its stems are cane like and erect. Its white/ cream flowers appears as terminal panicles or branched racemes which are up to 15cm long. Its fruit are berries which are initially green, maturing to red. Its roots are rhizomes which aids its slow spread.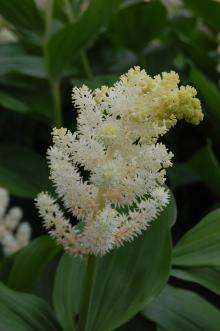 Maianthemum racemosum Flower (18/05/2013, Kew Gardens, London)
Maianthemum racemosum, commonly known as Treacleberry, False Solomon's Seal, False Spikenard, American Spikenard or Wild Spikenard, is native to west and east USA and north Mexico. In its native habitat it grows in shaded ravines or riparian corridors. Maianthemum racemosum is synonymous with Smilacina racemosa.
The etymological root of the binomial name Maianthemum. Racemosum is derived from the Latin meaning 'having racemose inflorescence'.
The landscape architect may find Maianthemum racemosum useful as a woodland understory plant or in other shady locations.
Ecologically, Maianthemum racemosum flowers are attractive to pollinating insects. Its fruit are attractive to some birds.
The Royal Horticultural Society has given Maianthemum racemosum their prestigious Award of Garden Merit in 1993.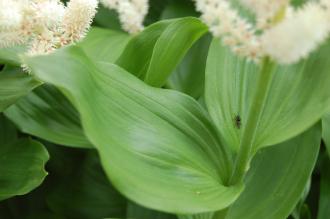 Maianthemum racemosum Leaf (18/05/2013, Kew Gardens, London)
Maianthemum racemosum prefers moist, humus rich, well-drained soils. It prefers an acid to neutral pH of soil.
Maianthemum racemosum requires little maintenance. Large clumps may be divided in spring.