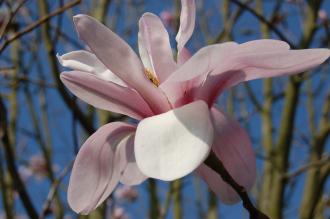 Magnolia salicifolia Flower (11/03/2012, Kew, London)
Position: Full sun to light shade
Flowering period: Spring
Soil: Moist, well drained
Eventual Height: 8m
Eventual Spread: 8m
Hardiness: 4b – 9a
Family: Magnoliaceae
Magnolia salicifolia is a small deciduous tree with a conical crown. Its dull green leaves are alternate,  lanceolate, have a smooth texture, are gray on the underside and up to 15cm long. The leaves are fragrant when crushed. The trunk is narrow and the bark is dark gray in color. Its flower buds are, as with most Magnolia, densely hairy. Its flowers are white with purple at the base, fragrant, composed of 6 narrow, oblong petals, up to 10cm across and appear before the leaves. Its fruit is a colourful cone like fruit which is up to 7cm long.
Magnolia salicifolia, commonly known as Willow leaved magnolia or Anise Magnolia, is native to Japan, found on Honshu Island on the slopes of Mt. Hakkoda.  Charles Spragus Sargent (1841-1927) and James Herbert Veitch (1868-1907) introduced the seeds of this plant into the UK in 1892.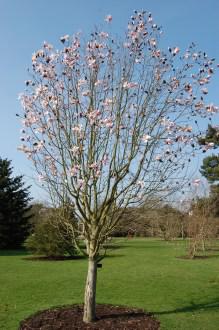 Magnolia salicifolia (11/03/2012, Kew, London)
The etymological root of the binomial name Magnolia was named after Pierre Magnol, a 17th century French botanist. Salicifolia is derived from Salix, the Latin name for Willow tree and the Latin folium 'leaf', in reference to the leaves being like those of a Willow.
The landscape architect may find Magnolia salicifolia useful as a spring flowering specimen tree or large shrub. It should be sheltered from strong winds and late frosts, where possible.
Ecologically, M. salicifolia is attractive to bees and pollinating insects. 
The Royal Horticultural Society has given M. salicifolia their prestigious Award of Garden Merit in 1993.
M. salicifolia prefers moist, humus rich, well-drained soils. It prefers an acid to neutral pH of soil.
M. salicifolia requires little maintenance. If pruning is required it should be carried out in mid summer.