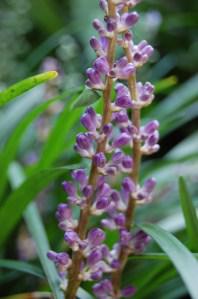 Liriope muscari 'Big Blue' flower (17/09/2011, London)
Position: Full sun to Partial shade
Flowering period: Late summer to autumn
Soil: Moist fertile soil
Eventual Height: 40 cm
Eventual Spread: 45 cm
Hardiness: USDA Zones 6a-10b
Family: Asparagaceae
Liriope muscari 'Big Blue' is a slow growing tufted evergreen tuberous herbaceous perennial. The plant has grassy evergreen foliage which is dark green all year round and a clump forming habit. The arching leaves of the plant have a linear, strap like appearance. The small showy flowers occur on erect spikes and tiered whorls of dense violet-purple flowers rise above the leaves in late summer through to autumn. The flowers also have a globose habit and resemble the bloom of the grape hyacinth. The fruit is borne on a spike following the flowers in the form of single seeded berries. This plant spreads by short stolons.
L. muscari, commonly known as Lilyturf, Big Blue Lilyturf, Border Grass or Monkey Grass, is native to East Asia. In it's natural habitat in China, Japan, and Korea it is an understory plant occurring in shady forests at elevations between 100 and 1400 metres. It is an easy plant to grow in areas with a similar native climate and is commonly used as ground-cover. The roots have often been used in traditional chinese medicine. This genus was first described by Portuguese botanist Joao de Loureiro in the 18th century.
The name Liriope is derived from the Latin Liriope being a fountain nymph in Roman mythology. The variety name muscari is in reference to the similarity of this genus' flowers to those of the Muscari genus.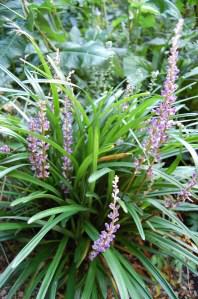 Liriope muscari 'Big Blue' (17/09/2011, London)
The landscape architect may find this plant useful as an effective ground cover plant and one which will tolerate shady conditions. It makes an effective edge to paths and low shrub borders due to it's compact nature.  It also can be established on steep slopes where erosion control is needed.
Ecologically this plant is attractive slugs and snails, but other than that Liriope is said to possess little ecological value. 
This plant prefers soils which are moist and fertile but well drained. The can be either sandy, loamy or clay soil as long as they are not waterlogged. The plant can tolerate acidic, basic and neutral soils.
The Royal Horticultural Society has given their prestigious Award of Garden Merit 1993.
Maintenance: This plant requires little maintenance. Old leaves may be cut back in winter. Large clumps of this perennial may be divided during late autumn to early spring.