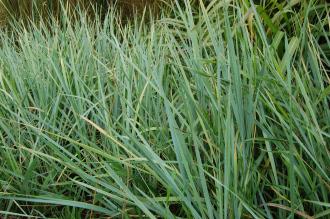 Leymus racemosus (21/09/2013, Kew Gardens, London)
Position: Full sun
Flowering period: Summer
Soil: Moist, well drained
Eventual Height: 1m
Eventual Spread: 1m
Hardiness: 5a, 5b, 6a, 6b, 7a, 7b, 8a, 8b, 9a
Family: Poaceae
Leymus racemosus is a fast growing evergreen grass with a clump forming spreading habit. Its mid green leaves are strap shaped, arching and up to 60cm long and 15mm broad. Its flowers appear as upright panicles. Its roots are rhizomes and produce an extensive network.
Leymus racemosus, commonly known as Mammoth Wild Rye, is native to south east to east Europe and central Asia. In its native habitat it grows on inland sand dunes. This grass may become invasive in light soils. Leymus racemosus is synonymous with Elymus giganteus.
The etymological root of the binomial name Leymus is an anagram of Elymus, the former name for this plant. Racemosus is derived from the Latin meaning 'flowers in racemes'.
The landscape architect may find Leymus racemosus useful as part of a prairie type planting scheme. It may also be useful for stabilising sandy soils. This grass is drought and deer tolerant. Once this grass is established it is drought tolerant.
Ecologically, Leymus racemosus seeds are attractive to some birds and mammals. This grass may also provide cover for some birds and mammals.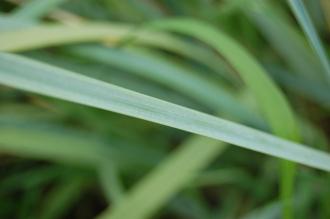 Leymus racemosus Leaf (21/09/2013, Kew Gardens, London)
Leymus racemosus prefers moist, fertile, well-drained soils. It tolerates most pH of soil. This species of grass is happy in very  sandy or poor soils.
Leymus racemosus requires little maintenance. Large clumps may be divided in spring or summer.