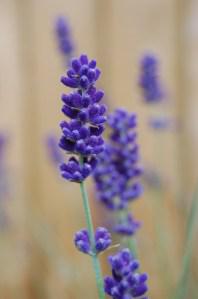 Lavandula 'Hidcote Blue' flower (03/06/2011, London)
Position:  Will flourish in full sun.
Soil: Well drained.
Flowering period: Summer.
Eventual Height: 45cm
Eventual Spread:  60cm
Hardiness: USDA Zone 4a-11a
Family: Lamiaceae
Lavandula angustifolia 'Hidcote' is an evergreen shrub with a tufted habit. Its foliage is simple, narrow and silvery-grey in appearance with a centre ridge.  It bears small, very deep violet, dioecious flowers in dense aromatic spikes, held above the foliage.
L. angustifolia, commonly known as English Lavender or Common Lavender, is native to the Mediterranean regions as far north as Switzerland. This plant has a long history as a source of an essential oil which has been used in perfumes, soaps and cosmetics.
L. angustifolia 'Hidcote' is also known as Lavandula spica 'Hidcote Purple' or Lavandula 'Hidcote Purple' and was created at Hidcote Manor in Gloucestershire, England by Major Lawrence Waterbury Johnston (1871–1958), who designed the gardens (now owned an maintained by the National Trust) as well as creating many popular cultivars including Penstemon 'Hidcote Pink' and Hypericum 'Hidcote Gold'.
Lavandula was the ancient Latin name of lavender plant. Angustifolia is derived from the Latin; angustus meaning 'narrow' and folium meaning 'leaf'. 'Hidcote' is in reference to its origins at Hidcote Manor where it was selected.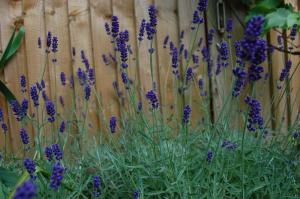 Lavandula 'Hidcote Blue' (03/06/2011, London)
This plant may be useful to the landscape architect for its compact habit making an effective low maintenance ground cover when planted en mass. It will also tolerate short periods of drought.
This plant will tolerate almost any soil conditions; it will be happy in acid, neutral or alkaline pH levels, or in loam, sand, clay or chalk based soils but will not thrive in a north facing position and will prefer a sheltered location. It will not thrive in continuously damp soil.
Ecologically this plant will attract many pollinating insects such as honeybees and the adult stages of some lepidoptera.
The Royal Horticultural Society have given it their prestigious Award of Garden Merit.
Maintenance: Little maintenance required. Flowered shoots and old stems may be removed to encourage new growth. A hard pruning is recommended once the plant has finished flowering as it will only produce flowers on new growth.