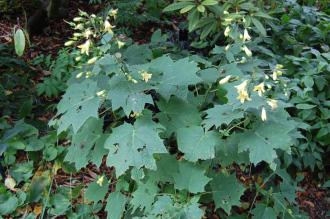 Kirengeshoma palmata (21/09/2013, Kew Gardens, London)
Position: Partial to full shade
Flowering period: Late summer early autumn
Soil: Moist, well drained, lime free
Eventual Height: 1.2m
Eventual Spread: 75cm
Hardiness: 6a, 6b, 7a, 7b, 8a, 8b, 9a
Family: Hydrangeaceae
Kirengeshoma palmata is a deciduous herbaceous perennial with a clump forming habit. Its mid green leaves are palmate, up to 20cm long and 20cm broad. Its leaves turn yellow in late autumn (if not damaged by frost first). Its pale yellow waxy flowers are bell shaped, up to 4cm long and appear in branched open panicles. Its fruit is a brown/ green orb shaped capsule. Its roots are short rhizomes.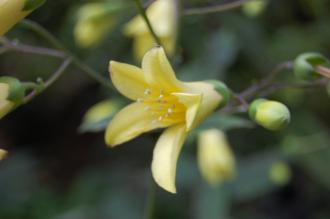 Kirengeshoma palmata Flower (21/09/2013, Kew Gardens, London)
Kirengeshoma palmata, commonly known as Yellow Wax Bells, is native to Japan and Korea. In its native habitat it grows within woodlands.
The etymological root of the binomial name Kirengeshoma is derived from the Japanese ki meaning 'yellow' and renge meaning 'Lotus blossom' and shoma meaning 'hat'. Palmata is derived from the Latin palmatum meaning 'palm like', in reference to the leaves.
The landscape architect may find Kirengeshoma palmata useful as part of a woodland understory planting scheme. This plant requires a sheltered location.
Ecologically, Kirengeshoma palmata, appears to be of little ecological interest.
The Royal Horticultural Society has given Kirengeshoma palmata their prestigious Award of Garden Merit in 2012.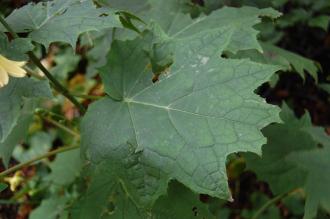 Kirengeshoma palmata Leaf (21/09/2013, Kew Gardens, London)
Kirengeshoma palmata prefers moist, fertile, well-drained soils with lots of leaf mold. It prefers a neutral to acid pH of soil.
Kirengeshoma palmata requires little maintenance. Large clumps maybe divided in spring as growth begins.