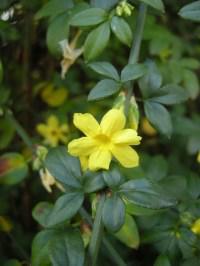 Jasminum nudiflorum flower (29/10/2011, London)
Position: Full sun to partial shade
Flowering period: Late autumn to winter
Soil: Well drained
Eventual Height: 3m
Eventual Spread: 3m
Hardiness: USDA Zones 6a-9b
Family: Oleaceae
Jasminum nudiflorum is a deciduous non clinging climbing/ rambling shrub. It produces bright green four-angled arching stems. The glossy leaves are opposite, pinnate and dark green. The individual leaves are divided into  three 3cm long oval leaflets. Solitary unscented yellow flowers are produced during the winter months, each having six petals and are 2cm across. These appear in the leaf axils. This plant may propagate itself by natural layering, where stems touch the ground.
Jasminum nudiflorum, commonly known as Winter Jasmine, is native to China. As the common name suggests this plant fllowers during the winter months, from November to March. It was introduced into the UK in 1844. This plant, unlike other members of the family is not twining and will require tying in if grown vertically.
The etymological root of the binomial name of Jasminum  is derived from Ysmyn, the Arabic for the species. Nudiflorum is derived from the Latin nudi 'naked' and  florum 'flower', refering to the fact this plant flowers on bare stems.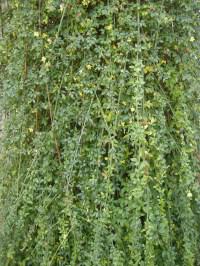 Jasminum nudiflorum (29/10/2011, London)
The landscape architect find Jasminum nudiflorum useful as a winter flowering wall trained shrub or a low growing scrambling plant.
Ecologically, this plant is attractive to insects.
Jasminum nudiflorum has won the prestigious Royal Horticultural Societies annual Award of Garden Merit in 1993.
J. nudiflorum  prefers fertile, well-drained soil, although it will tolerate poor soils. It will tolerate most pH of soil.
Maintenance: This plant requires little maintenance. This plant may be cut back hard in the spring immediately after flowering. Regular pruning will prevent bare patches on the plant
Advertisement
Eco World Content From Across The Internet.

Featured on EcoPressed
The EU is subsidising illegal fishing