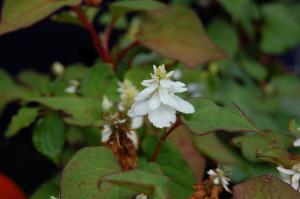 Houttuynia cordata 'Flora Pleno' flower (18/06/2011, London)
Position: Flourishes in full sun to partial shade.
Soil:  Poorly drained to wet.
Flowering period: Late spring to early summuer.
Eventual Height: 60cm
Eventual Spread: Indefinite
Hardiness: USDA Zone 5a-11
Family: Saururaceae
Houttuynia cordata 'Flore Pleno' is a deciduous perennial with a spreading habit. Its foliage is chordate, leathery, fleshy and dark green in colour with a simple margin, tinged with purple. In spring it bears spikes of insignificant flowers surrounded by eight or more white oval bracts.
H. cordata is commonly known as the Heart-Leaved Houttuynia and is native to eastern Asia, including China, Japan and the Himalayas. Traditionally it has been used as a cooking herb although there appears to be a great difference in the aroma and flavour between plants sourced in China and those sourced in Japan. The plant also has antibacterial properties.
Houttuynia was named for Martin Houttuyn, an 18th century Dutch naturalist, with cordata meaning 'heart shaped' in the Latin, in reference to the foliage. 'Flore Pleno' is a Latinised phrase referring to the double flowers.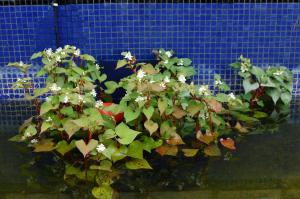 Houttuynia cordata 'Flora Pleno' (18/06/2011, London)
The landscape architect may find this plant useful as ground cover in waterlogged areas and at the edge of ponds.
This plant will tolerate almost any soil conditions; it will be happy in neutral, acid or alkaline pH levels, in loam, clay or sand based soils but will prefer an east or south facing aspect in a sheltered or exposed location. This plant will prefer poorly drained soils such as at the edge of a body of water.
Ecologically this plant will attract pollinating insects such as butterflies and honey bees.
Maintenance: this plant requires little to no maintenance. If the clumps become too large they may be divided in spring.