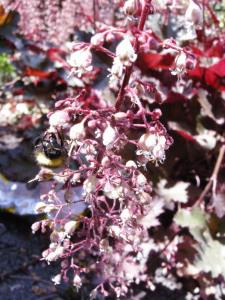 Heuchera 'Palace Purple' flower (21/05/2011, London)
Position: Flourishes in full sun to partial shade.
Flowering period: Summer.
Eventual Height: 45cm
Eventual Spread: 45cm
Hardiness: USDA Zone 3a-8b
Family: Saxifragaceae
Heuchera 'Palace Purple' is a semi-evergreen persistent perennial with a clump forming habit. Its foliage will survive most winters in our climate and its leaves are chordate and bronze/ purple with sharply lobed edges. In summer it bears sprays of small tubular white flowers which appear to hover above the leaves.
H. 'Palace Purple', commonly known as Coral Flower, was originally described as H. micrantha var. diversifolia 'Palace Purple' but this has since been adjusted to villosa as the original seed was collected from a naturally occurring purple-leaved plant by Edgar Wherry in the southern United States and the micrantha is only native to California, Oregon, Washington, and British Columbia, this coupled with the micrantha having a much lower frost tolerance led to it being placed within the villosa genus.
Heuchera was named for Johann Heinrich von Heucher, the 18th century professor of medicine and botanist at Wittenberg, Germany, with villosa meaning 'velvet' in the Latin. 'Palace Purple' is in reference to the cultivar being selected from seedlings grown in Kew Gardens near Kew Palace.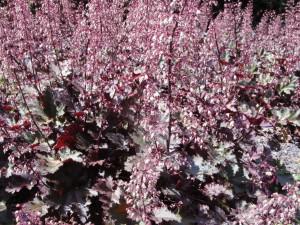 Heuchera 'Palace Purple' (21/05/2011, London)
The Landscape architect may find this plant useful as an effective low ground cover when planted on mass providing all year round appeal.
This plant will tolerate varied soil conditions; it will be happy at neutral pH levels, in loam or sand based soils in a sheltered or exposed location facing any aspect. The woody rootstock tends to lift out of the ground so it may be mulched annually or lifted and replanted.
We are unclear as to weather the plant provides any ecological benefit, we would appreciate any reader feedback.
The Royal Horticultural Society have given it their prestigious Award of Garden Merit but this was rescinded due to the market being flooded by inferior seedlings that did not conform to the original specimens.
Maintenance: Little maintenance required. Unsightly flower heads and foliage may be removed if required. Large clumps may be divided in spring or autumn.