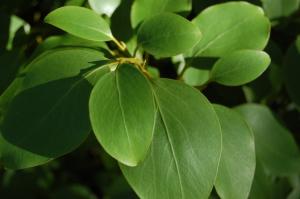 Griselinia littoralis leaf (15/10/2011, London)
Position: Full Sun
Flowering period: May (but inconspicuous)
Soil: Well drained
Eventual Height: 8m
Eventual Spread: 4m
Hardiness: USDA Zones 8b – 9b
Family: Griseliniaceae
Griselinia littoralis is a small to medium sized upright evergreen shrub with a bushy habit. It's evergreen leaves are simple ovate leaves, which are leathery, glossy green above and paler below. They are 6-14 cm long, with a smooth margin. The flowers are borne on 2-5 cm long panicles, with each panicle bearing 50 to 100 individual inconspicuous flowers. Each flower is 3-4 mm across, greenish yellow with 5 sepals and stamens. The fruit is a small blackish berry.
Griselinia littoralis, commonly known as the New Zealand Privet or Kapuka, is native to New Zealand where it typically grows in coastal locations. It is widely cultivated both in New Zealand and in other areas with mild oceanic climates, including the UK, where it is valued for its tolerance in maritime climate. It is used frequently as a hedging plant and is often clipped like a Privet. G. littoralis has been cultivated in the UK since 1872.
The etymology of the binomial name Griselinia is it was named after the Venetian botanist, Franc Griselini. Littoralis is derived from the Latin meaning 'of the sea shore'.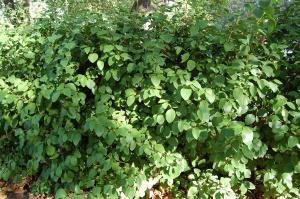 Griselinia littoralis (15/10/2011, London)
The landscape architect may find this plant very useful as an evergreen hedging plant, if necessary it can be grown as a large hedge of up to 4m  Due to it's tolerance of salt spray it is very suited to maritime locations.
This plant prefers a well drained fertile soil. It is drought tolerant once established.
Ecologically, this plant may be of value to nesting birds. As it is a non native I do not believe it is of food value to our native fauna.
This plant was awarded the prestigious Royal Horticultural Societies  Award of Garden Merit in 1993
Maintenance: This plant requires little maintenance. It should be pruned in late spring or summer when being managed as a hedge.
Advertisement
Eco World Content From Across The Internet.

Featured on EcoPressed
Get ready for another new recycling label system